Watch Star Trek
"The future begins."
Star Trek tells the story of the starship Enterprise's first voyage and the complicated relationship developing between the members of its crew. Captain Kirk, Spock and the rest of the team may already be well known to many, but this is not your father's Star Trek. Dazzling special effects and a trendy, young cast are featured in this prequel which tells the story of how the adventures of the USS Enterprise all started.
We meet James Kirk, a reckless teenager, causing trouble in his home state of Iowa. Kirk's intelligence gets him into trouble when he instigates a bar fight after insulting a group of Starfleet cadets. When Captain Christopher Pike steps in to get his cadets back in line, he recognizes James as the son of George Kirk, one of Starfleet's fallen heroes. Pike encourages Kirk to enroll in Starfleet Academy and follow his father's legacy. Reluctant at first, Kirk decides to board a shuttle to Starfleet Academy. Three years into his training at the Academy, Kirk is stirring up trouble again. This time he is accused of cheating during a test simulation. Commander Spock the designer of the test takes Kirk to a disciplinary hearing where his punishment will be decided.
The hearing is interrupted when Starfleet receives a distress call from an allied planet. Kirk and Spock are both assigned to the starship Enterprise with Captain Pike and respond to the emergency alongside the rest of the fleet. The Enterprise arrives at its destination and is immediately attacked, finding the rest of the fleet destroyed and a mysterious ship drilling into the planet they came to aid. When Captain Pike is taken prisoner and the mysterious crew threatens to destroy earth, Spock and Kirk must put their differences aside in order to work together and lead the crew of the Enterprise to battle in order to stop a vengeful, time-traveling crew on a mission to destroy Starfleet one planet at a time.
|
2009
|
2 hr 6 min
|

/

10
Cast

Studio

Director

J.J. Abrams

Language

English
Star Trek News
Leonard Nimoy, the Original Spock, Passes Away At Age 83
February 27, 2015 @ 10:01 am PST
|
Read More

'Guardians of the Galaxy' Aims to Brings on Zoe Saldana
April 04, 2013 @ 10:54 am PST
|
Read More

Weekend Box Office: 'Star Trek: Into Darkness' Kicks 'Iron Man 3' Out of Top Position
May 19, 2013 @ 4:10 pm PST
|
Read More

'Riddick' Teaser Trailer Hits... You're Not Afraid of the Dark, are You?
March 23, 2013 @ 2:15 pm PST
|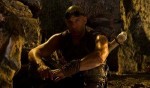 After audiences left Riddick for dead nine years ago, the anti-hero is back in a short teaser trailer that proves he's returning stronger than ever!
Read More


Watch Star Trek Trailer

Watch Star Trek Online - Watch online anytime anywhere: Stream, Download, Buy, Rent
Star Trek is currently available to watch and stream, download, buy, rent on demand at Amazon Prime, Amazon, Vudu, Google Play, iTunes, YouTube VOD online.