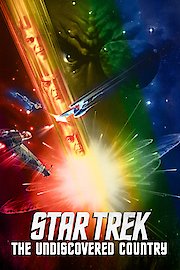 Watch Star Trek VI: The Undiscovered Country
"The battle for peace has begun."
PG
1991
1 hr 49 min
65
Released in 1991 Star Trek: The Undiscovered Country was produced by Lenard Nimoy and directed by Nicholas Meyer. It would be the final original Star Trek film to feature the entire cast and numerous returning crew from previous productions. The film was intended to be the swan song of the original Star Trek cast and was released only days after Star Trek creator Gene Roddenberry's untimely death, though he had seen the finished film just days before he died. The film was originally going to be a prequel where the principal characters would all meet; another draft of the script was exceedingly dark and had all of the characters being killed off except for Spock and McCoy. The plot of the film revolves around a Klingon peace talk with the Federation which a nefarious and shadowy faction is attempting to sabotage through subterfuge and assassination. Kirk, Spock, McCoy, Uhura and all the rest of the original Enterprise crew are tasked with finding the devious culprits and putting an end to their madness. The film, unlike the fifth installment in the franchise, The Final Frontier, received generally positive critical reviews and currently holds an 83 percent on Rotten Tomatoes.