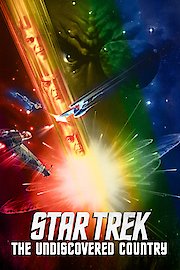 Watch Star Trek VI: The Undiscovered Country
"The battle for peace has begun."
PG
1991
1 hr 49 min
65
In Star Trek VI: The Undiscovered Country from 1991, directed by Nicholas Meyer, peace between the United Federation of Planets and the Klingon Empire is on the brink of being achieved. However, after the Klingon moon Praxis explodes, sending shockwaves and causing a severe ecological disaster, the Klingon Chancellor Gorkon (David Warner) seeks peace with the Federation, believing it is the only way for his people to survive. Captain James T. Kirk (William Shatner) and his crew of the USS Enterprise-A are assigned to escort Gorkon's ship to Earth. Despite Kirk's initial hesitations, he and his crew are tasked with overseeing a diplomatic conference on board the Enterprise. However, things take an unexpected turn when Gorkon is assassinated, and Kirk and his crew are framed for the crime. As the Enterprise races to clear their names and prevent an all-out war between the Federation and the Klingon Empire, they encounter all sorts of obstacles and challenges, including a shape-shifting alien, a dangerous prison planet, and a sinister conspiracy within the Federation. Throughout the film, the main characters confront their own prejudices and biases as they navigate the complex political landscape of the Star Trek universe. Spock (Leonard Nimoy) must confront his own mixed heritage, as his human and Vulcan identities clash in unexpected ways. McCoy (DeForest Kelley) struggles with his own discomfort towards the Klingons, but eventually learns to see beyond their physical differences and accept them as fellow intelligent beings. One of the key themes of Star Trek VI is the importance of reconciliation and forgiveness. As Kirk and his crew strive to clear their names and prevent a war, they must also learn to forgive their enemies and work towards cooperation and understanding. This message is especially relevant in today's world, where conflicts between different cultures and nations threaten to tear us apart. Another highlight of the film is the fantastic performances by the main cast, who all bring their A-game to the table. Shatner, Nimoy, and Kelley have never been better, and they are joined by a host of talented supporting actors like Christopher Plummer, Kim Cattrall, and Michael Dorn. The special effects and visuals in Star Trek VI are also top-notch, with some truly impressive space battles and action sequences. The score by composer Cliff Eidelman is also worth mentioning, as it perfectly captures the swashbuckling spirit of the Star Trek franchise while also incorporating elements of classical music and operatic grandeur. Overall, Star Trek VI: The Undiscovered Country is a thrilling and thought-provoking entry in the Star Trek franchise. It blends action, politics, and philosophy in a way that is uniquely Star Trek, and it serves as a fitting send-off for the cast of the original series. Fans of the franchise will not be disappointed, and newcomers will find much to enjoy as well.