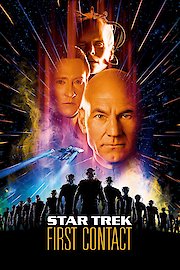 Watch Star Trek VIII: First Contact
"Resistance is futile."
PG
1996
1 hr 51 min
71
The cybernetic alien race known as the Borg have hatched a new plan to assimilate the Earth. The Borg have traveled back in time to the 21st Century to stop Zefram Cochrane from discovering warp speed, which would set mankind back from exploring the stars. Captain Picard and the crew of the U.S.S. Enterprise follow the Borg back through time to stop their plans. As they try to repair the damage done to the past, Captain Picard and the android Data realize they must destroy the evil Borg Queen in order to stop the Borg from wiping out the Earth.