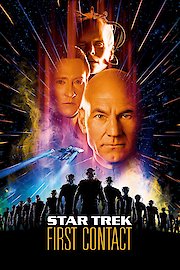 Watch Star Trek VIII: First Contact
"Resistance is futile."
PG
1996
1 hr 51 min
71
Star Trek VIII: First Contact, released in 1996, is a thrilling science fiction movie universally acclaimed as one of the best Star Trek films ever made. Directed by Jonathan Frakes, who also plays Commander Riker in the movie, the film features an impressive cast of talented actors, including Patrick Stewart as Captain Jean-Luc Picard, Brent Spiner as Data, and many others.
The movie is set in the 24th century, where humanity has achieved faster-than-light travel and has made contact with various alien species. The story begins with a mysterious, cube-shaped spaceship, called the Borg, heading towards Earth, determined to assimilate every living being in the galaxy into their hive mind. The Borg have already destroyed several Federation starships and decimated countless planets on their way, leaving a trail of destruction wherever they go.
Captain Jean-Luc Picard and his crew receive an urgent mission from Starfleet Command to intercept the Borg spacecraft before it reaches Earth. However, the ship's First Officer, William Riker, disagrees with Picard's plan to engage the Borg in battle, instead, he decides to transport a team of Starfleet officers, including Picard and Data, back in time to the year 2063 to prevent the first human encounter with aliens caused by an event initiated by the Borg, known as First Contact.
Upon their arrival in the past, the Enterprise crew discovers a devastated planet, in the aftermath of World War III. They are forced to make their way to a secluded missile silo in Montana, where the first warp-capable spacecraft built by humans is being constructed by Dr. Zefram Cochrane. The crew's objective is to ensure that Cochrane's pioneering flight attracts the attention of a passing Vulcan vessel, thus initiating Earth's first contact with an alien species and creating the future that the Enterprise crew knows.
However, it isn't an easy task, as the crew must face not only the Borg but also Lily, a resistance fighter who stows away on the Enterprise, and mental torture by the Borg's sinister Queen played by Alice Krige. Meanwhile, Riker and the Enterprise crew fight for their very lives against the Borg Cube in the present, in a battle that could change the course of history.
As always, the acting in Star Trek VIII: First Contact is superb. Patrick Stewart's portrayal of a resolute and determined Captain Picard provides an excellent contrast to Brent Spiner's amiable and emotionless android, Data. Other notable cast members include LeVar Burton as Geordi LaForge, Michael Dorn as Worf, Gates McFadden as Doctor Beverly Crusher, and Marina Sirtis as Deanna Troi, who all give memorable performances.
The special effects are jaw-dropping, especially during the climactic battle between the Enterprise and the Borg Cube. The action sequences are fast-paced and intense, with well-choreographed fights, explosions, and dramatic space battles. However, what sets Star Trek VIII: First Contact apart from most action sci-fi films is not only the stunning visuals but also the thought-provoking themes that the movie deals with.
One of the significant themes in Star Trek VIII: First Contact is the concept of humanity's progress and the role that individuals play in shaping history. Not only does the movie celebrate the achievements of great thinkers like Zefram Cochrane, who pioneered warp drive technology and brought humanity into the cosmos, but it also highlights the importance of each person's actions in creating a future worth living.
Another central theme of Star Trek VIII: First Contact is the idea of resistance to totalitarianism. The Borg, who represent an oppressive regime that seeks to assimilate every species into a single collective consciousness, embody the dangers of giving up individualism for the sake of security. The Enterprise crew's struggle against the Borg Queen and her drones is a powerful metaphor for the importance of fighting against tyranny, even when the odds seem insurmountable.
In conclusion, Star Trek VIII: First Contact is a must-watch film for science fiction fans and anyone interested in thought-provoking storytelling. With its superb acting, stunning special effects, and profound themes, the movie is a masterpiece that will stand the test of time.
Star Trek VIII: First Contact is a 1996 science fiction movie with a runtime of 1 hour and 51 minutes. It has received mostly positive reviews from critics and viewers, who have given it an IMDb score of 7.6 and a MetaScore of 71.