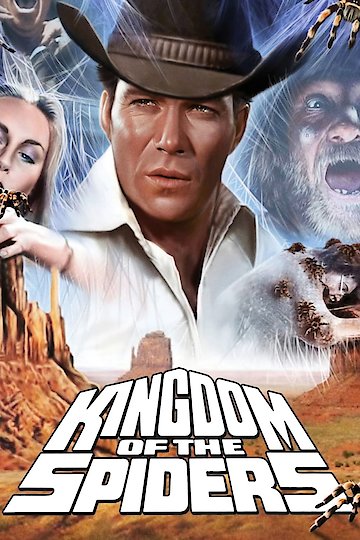 Watch Kingdom of the Spiders
"A Living, Crawling, Hell on Earth!"
PG
1977
1 hr 37 min
Set in the remote town of Verde Valley, Arizona, Kingdom of the Spiders is a classic horror film from 1977 that tells of a terrifying incident when the normally docile and harmless tarantulas suddenly turn hostile. The movie opens with a rancher named Walter Colby (played by Woody Strode) discovering the inexplicable death of his prize calf. Soon, more animals begin to expire, and their demise is always accompanied by the appearance of numerous tarantulas. The town veterinarian, Rack Hansen (played by William Shatner), is called in to investigate these bizarre deaths, and he's suspicious that something unnatural is going on. Hansen enlists the help of a local entomologist, Dr. Diane Ashley (Tiffany Bolling), who confirms the presence of a massive spider population from different species, somehow working together to launch massive attacks. As more and more terrifying spider attacks begin to happen, Hansen, Ashley, and the townsfolk must band together to try and stop these dangerous creatures from infesting the entire town. As the spider threat becomes more significant, the townspeople struggle to hold themselves together, knowing that one mistake could ensure their doom. The story moves at breakneck pace, exploring the horrors of nature's fury and the potential for mass destruction when thousands of spiders rise to fight. Kingdom of the Spiders is a thrilling film that regularly mixes real spiders with plastic models, puppets, and eight-legged props to create a heart-pounding atmosphere. The movie takes its time building to its intense and gruesome climax, combining elements of science fiction, horror, and environmental disaster into a non-stop action fest. William Shatner plays the lead character, Rack Hansen, with his usual wry wit and understated delivery, creating a relatable hero, as he attempts to save the townsfolk from themselves and their deadly spider infestation. Tiffany Bolling is delightful as Dr. Diane Ashley, a strong female lead who also happens to be an expert in entomology, an unusual and unexpected gender role for the time. Woody Strode gives an exceptional performance as the rancher who may have kick-started the spider invasion in the first place. The special effects, while often primitive compared to modern standards, remain astonishingly effective, especially in some of the more intense, action-packed scenes with walls of tarantulas engulfing their unsuspecting victims. The dialogue is smart and well-written, helping to build tension as the movie progresses. Moreover, the film's curious ending will definitely leave the audience with something to ponder and discuss. Overall, Kingdom of the Spiders is a highly entertaining horror film that expertly combines elements of science fiction, environmental disaster, and monster movie. Despite its age, it is still an incredibly engaging and terrifying film to watch in the dark, with informative scientific explanations, solid performances, and a progressively ominous atmosphere. So if you love monster movies and science fiction, this classic film is not to be missed.