Star Wars Episode VII: The Force Awakens
"Every generation has a story."
In this fantasy adventure, a team of rebellious loners band together to fight against a resurgent galactic threat. Their only hope? Finding the Jedi Knight Luke Skywalker, who is hiding somewhere far, far away. The film marks the revival of the Star Wars franchise and stars Daisy Ridley, John Boyega and Adam Driver.
|
2015
|
2 hr 16 min
|

/

10
Cast

Studio

Director

J.J. Abrams

Language

English
Star Wars Episode VII: The Force Awakens News
'The Last Jedi' Crosses the Half-Billion-Dollar Mark
December 19, 2017 @ 12:13 pm PST
|
Read More

JJ Abrams Takes 'Star Wars' Gig, Triggers Studio Controversy
September 22, 2017 @ 6:34 am PST
|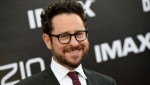 The 'Force Awakens' director will direct 'Star Wars Episode IX,' but that's not making his home studio happy.
Read More

'Star Wars: Last Jedi' Could Have $200 Million Debut
November 23, 2017 @ 5:45 am PST
|
Read More

JJ Abrams Takes Over 'Star Wars: Episode IX'
September 12, 2017 @ 11:26 am PST
|
Read More


Watch Star Wars Episode VII: The Force Awakens Trailer

Star Wars: The Force Awakens Secret" TV Spot (Official)|0:46