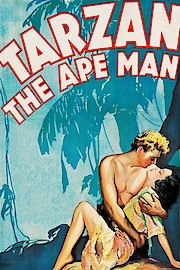 Watch Tarzan The Ape Man
"Mothered by an ape—he knew only the law of the jungle—to seize what he wanted!"
NR
1932
1 hr 40 min
Tarzan The Ape Man is a classic adventure film released in 1932. It follows the story of Tarzan, a man raised in the jungle by a tribe of apes. The movie stars Johnny Weissmuller as Tarzan, Neil Hamilton as Harry Holt, and C. Aubrey Smith as James Parker. The movie starts with a group of explorers led by James Parker, who are on a mission to find the legendary Elephant's Graveyard. They are accompanied by Harry Holt, a young man who is in love with Parker's daughter, Jane. The group is warned by the locals about the dangers of the jungle, but they press on regardless.
During the journey, they come across a tribe of native Africans who capture Jane. Tarzan, who has been spying on the group from the trees, rescues Jane from the natives. This is the first time that Jane and Tarzan meet, and the encounter leaves a lasting impression on both of them.
As the story progresses, Tarzan becomes fascinated with Jane and her culture. He learns English from her and begins to develop feelings for her. Meanwhile, Parker and Holt become obsessed with finding the Elephant's Graveyard and ignore the dangers lurking in the jungle, including the threat of predators and locals who are hostile towards outsiders.
The movie is notable for its innovative use of sound effects, which were a novelty at the time. It also features impressive footage of animals in the jungle, such as elephants, lions, and crocodiles. The film's iconic scenes include Tarzan's famous yell, which has become a staple of popular culture, as well as his swinging from vine to vine through the treetops.
Tarzan The Ape Man is a thrilling adventure movie that captures the sense of wonder and danger associated with exploring unknown territories. It is a classic example of Hollywood's Golden Age, with a timeless story that has captured the imagination of audiences for generations. The film was a critical and commercial success upon its release and spawned multiple sequels and adaptations.
Overall, Tarzan The Ape Man is a must-see movie for anyone interested in classic adventure films or the history of Hollywood cinema. Its iconic imagery, exhilarating action sequences, and engaging characters make it a timeless masterpiece that continues to be enjoyed by audiences of all ages.
Tarzan The Ape Man is a 1932 action movie with a runtime of 1 hour and 40 minutes. It has received mostly positive reviews from critics and viewers, who have given it an IMDb score of 7.0.