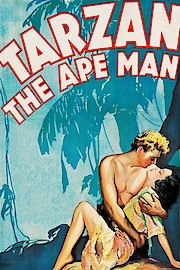 Watch Tarzan The Ape Man
"Mothered by an ape—he knew only the law of the jungle—to seize what he wanted!"
NR
1932
1 hr 40 min
Johnny Weissmuller swings into action as Tarzan! Caught between two worlds, a man who was orphaned in the African jungle as a baby and raised by apes has grown to rule and to protect the wild beasts, a hero known only as Tarzan. On an expedition into the heart of Africa to find the fabled Elephant Graveyard, European big-game hunter James Parker (C. Aubrey Smith), Parker's daughter, Jane (Maureen O'Sullivan), and her fiancé Harry Holt (Neil Hamilton) are blocked at every turn by a mysterious man who seems to command the allegiance of the animals. When this ape-man (Weissmuller) spirits Jane away to his home in the trees, he slowly melts her heart--and when the expedition leaves Africa, she chooses to remain in the jungle with Tarzan, The Ape Man.