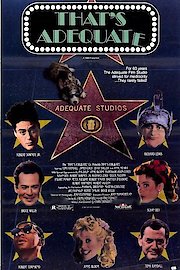 Watch That's Adequate
"No money! No class! No shame!"
R
1989
1 hr 22 min
That's Adequate is a very humorous and comedic film focused on a Hollywood film studio and its trials and tribulations. This feature length film is a parody on one of the worst studios in Hollywood and it makes fun of many well known movies and television show. It consists of a large number of Hollywood stars and they collaborate to make a very fun film. Many of the scenes in this film use old school comedy and slap stick humor which will appeal to fans of old television and movies.