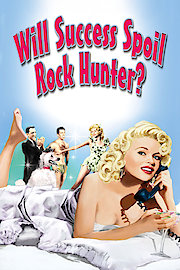 Watch Will Success Spoil Rock Hunter?
"Man, oh man, oh Mansfield!"
NR
1957
1 hr 33 min
Will Success Spoil Rock Hunter is a 1957 comedy. The large cast includes Jayne Mansfield, Tony Randall, Joan Blondell and several others. The movie spoofs America's obsession with celebrities and Hollywood and television in particular. It is loosely based on the Broadway play of the same name. Tony Randall plays a television-advertising writer named Rockwell P. Hunter. He is the low man on the totem pole at his advertising agency. He enlists the actress Rita Marlow (Mansfield) to help revitalize the agency and save their biggest account. This is a classic '60s style comedy similar to the Rock Hudson/Doris Day comedies. Jane Mansfield makes the movie a must see all by herself.