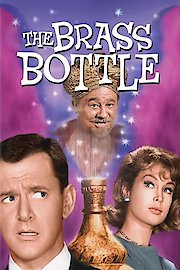 Watch The Brass Bottle
"Lookout world! Nothing's going to be the same again!"
Passed
1964
1 hr 27 min
The Brass Bottle is a 1964 comedy-fantasy film that follows the story of a wealthy architect, Harold Ventimore, played by Tony Randall, who discovers a mysterious brass bottle while browsing through an antique shop. Little does he know that the bottle contains a mischievous genie, Fakrash, played by Burl Ives, who is eager to grant him an endless supply of wishes, but with a catch.
After discovering that the bottle depicts "Fakrash the Magnificent," Ventimore brings it home as a decorative piece. However, he accidentally rubs the bottle, releasing the genie within. Fakrash is initially angry, but then excited to be free and offers to grant Harold three wishes.
Harold is skeptical at first, but after Fakrash proves his ability to grant wishes, Harold seeks to take advantage of his newfound power. However, he soon realizes the unintended consequences of his wishes, which often result in chaotic and embarrassing situations, including a transformed Barbara Eden in one of her first screen roles.
As the movie progresses, Harold embarks on a journey to find a way to get rid of the genie and make his life normal again. However, it doesn't take long for him to realize that getting rid of Fakrash may not be as easy as it seems.
The relationship between Harold and Fakrash is the crux of the movie, as their contrasting personalities make way for endless comedy. Harold, initially hesitant to use his wishes, is an orderly and responsible person who wants everything to go according to plan, while Fakrash is impulsive and mischievous, with the intention to create chaos and confusion.
The Brass Bottle features excellent performances from the entire cast, including Tony Randall, who starred in the popular TV series "The Odd Couple," and Burl Ives, who was a well-known folk singer and actor. Barbara Eden, who later rose to fame as the star of the popular TV series "I Dream of Jeannie," also delivered a memorable performance as Sylvia Kenton, Harold's love interest.
The movie's plot reveals true-to-life lessons of happiness that even material wealth cannot buy. Through the consequences of his desires, Harold soon realizes the fine line between happiness and material possessions.
The Brass Bottle showcases an entertaining blend of fantasy, magic, and comedy, a perfect escape from the stress and anxieties of present-day life. The classic 1964 film is one of those hidden gems that will continue to delight viewers with its unique plot and witty humor. The movie's lighthearted and enjoyable nature makes it an ideal choice for watching with the family, ensuring that it will continue to be a classic suitable for all ages.