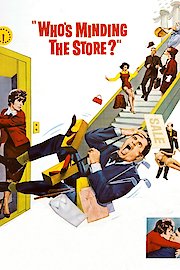 Watch Who's Minding the Store?
"Look who's minding the store..."
Approved
1963
1 hr 30 min
Jerry Lewis is one of the biggest names in comedy, and his 1963 film, Who's Minding the Store?, is a classic example of his irreverent and zany wit. The film tells the story of Norman Phiffier (Lewis), a hapless and clumsy man who is desperate to win the affections of the beautiful and wealthy Barbara Tuttle (Jill St. John). Barbara's father, John P. Tuttle (Ray Walston), is the cold and calculating owner of a large department store, and Norman lands a job in the store's toy department in order to get closer to Barbara.
Norman's attempts to impress Barbara are continually thwarted by his own ineptitude, as well as the scheming of Tuttle's conniving assistant, Quimby (John McGiver). Meanwhile, the store itself is in danger of falling apart, with various departments competing against each other and a group of rival salesmen looking to take the store down.
As Norman struggles to keep his job and win Barbara's heart, he becomes embroiled in a series of madcap hijinks and ridiculous schemes, including a disastrous elevator repair job, a chaotic run-in with a pack of dogs, and a wild chase through the store's Christmas display.
Throughout it all, Lewis's trademark physical comedy, exaggerated facial expressions, and rapid-fire delivery keep the laughs coming. He's joined by a talented cast, including St. John as the glamorous and unattainable Barbara, Walston as the ruthless and manipulative Tuttle, and McGiver as the sniveling and conniving Quimby.
But the real star of the show is Lewis himself, who brings his unique blend of slapstick, satire, and social commentary to bear on the world of department store retail. Whether he's skewering the excesses of modern capitalism, lampooning the pretensions of the wealthy elite, or simply making fools of himself and everyone around him, Lewis is always a riot to watch.
Despite its age, Who's Minding the Store? remains a classic of the genre, a hilariously irreverent take on the world of retail and a must-see for any fan of Jerry Lewis's unique brand of comedy. So if you're ready for a wild ride through the absurd and the outrageous, grab some popcorn, settle in, and get ready to laugh your head off.
Who's Minding the Store? is a 1963 comedy with a runtime of 1 hour and 30 minutes. It has received mostly positive reviews from critics and viewers, who have given it an IMDb score of 6.7.