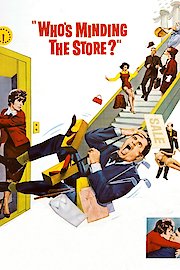 Watch Who's Minding the Store?
"Look who's minding the store..."
Approved
1963
1 hr 30 min
Mrs. Tuttle is a rich socialite who is hoping to dissuade her daughter Barbara from marrying a dog walker named Norman Phiffier because he has no social standing. So she decides to give him a job at the family-owned Tuttle Department Store, but intends on sabotaging his success with a series of almost-impossible to complete tasks. But Phiffier proves himself to be a man of true worth. When he discovers that Barbara is heiress to a fortune, he quits his job and returns to dog walking. Mrs. Tuttle, seeing he's not after her money, welcomes him into the family.