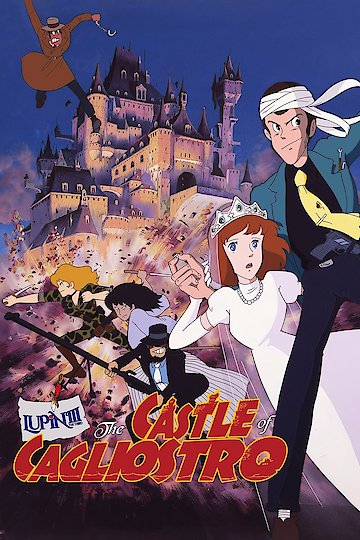 Watch The Castle of Cagliostro
"Believe in the Thief."
G
1979
1 hr 40 min
72
The Castle of Cagliostro is a Japanese animated action-adventure film from 1979, directed by Hayao Miyazaki and produced by the famous anime studio, Studio Ghibli. The film follows the popular Lupin III character, a thief known for his wit, charm, and humorous personality as he embarks on yet another exciting adventure that takes him to a mysterious and ancient European principality, Cagliostro. As the film opens, Lupin and his sidekick, Jigen, are on a heist that goes awry, and Lupin realizes that the bills he has stolen are actually high-quality counterfeit money. Intrigued by the source of the fake currency, Lupin embarks on an investigation that leads him to the Castle of Cagliostro, a massive fortress built into a mountain, guarded by a ruthless army, and ruled by an evil count. Lupin's investigation also leads him to the charming Clarisse, a beautiful young woman and Cagliostro's notable princess. Clarisse is about to marry the Count of Cagliostro against her will, but she is secretly yearning for the freedom to choose who she loves. Lupin discovers that the Count is a descendant of a powerful and mystical family, who have been ruling Cagliostro and manipulating its citizens for centuries, and it soon becomes clear that he has plans to use his power to cause chaos and destruction. As Lupin and Clarisse bond and unravel the mysteries behind Cagliostro's secrets, the Count and his army chase them through the corridors of the castle, leading to a thrilling and suspenseful final showdown. The animation in The Castle of Cagliostro is stunning and timeless, as the film showcases the incredible talents of Studio Ghibli, with beautifully detailed backgrounds and a complex and expertly choreographed action sequence. The film's comedic tone is balanced with its thrilling action scenes, and the plot masterfully evolves as the story progresses. The voice acting in the film, especially from lead actor Yasuo Yamada as Lupin, is standout and adds depth and nuance to the characters. The original soundtrack, composed by legendary composer Yuji Ohno, is also memorable and undoubtedly adds to the film's impact. Overall, The Castle of Cagliostro is an exciting adventure with a touch of romance, humor, and suspense, making it a classic film in the anime genre. While it may be over 40 years old, the film's themes and characters remain appealing and relatable to viewers of all ages. Whether you're a fan of action films or anime, The Castle of Cagliostro is not one to miss.