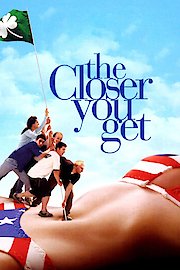 Watch The Closer You Get
"For five desperate Irishmen, the perfect girl is abroad."
PG-13
2000
1 hr 33 min
44
The Closer You Get is a charming romantic-comedy from 2000, directed by Aileen Ritchie, that captures the endearing and sometimes awkward moments of small-town life in Ireland. Set in a fictional village of Tullymore, the movie follows a group of local bachelors who are desperate to find women to date and marry, as the ratio of single men to women in the village is highly skewed.
Kieran (Ian Hart) is a pub-owner and leader of this group of bachelors. Frustrated with the lack of eligible women in the village, Kieran soon comes up with a plan: to place a personal ad in the Miami Herald, claiming that there are many attractive Irish women in Tullymore who are looking for husbands. The ad immediately catches the attention of two American women, referred to as "tourists", who decide to visit the village to meet the men.
The bachelors become elated at the thought of finally meeting eligible women and decide to prepare for their arrival, but things don't go as smoothly as planned. As the tourists arrive, they seem less interested in the men than the beautiful scenery and charming locals. The bachelors are crestfallen, but that doesn't stop them from trying to win the women over with their best Irish charm.
Meanwhile, Kieran's sister, Rosemary (Niamh Cusack), is dealing with her own romantic woes. She's been in love with her former flame, Sean (Sean McGinley), for years, but he is still mourning the loss of his wife. As Rosemary tries to get Sean to open up and move on, she also starts to realize that she deserves to be happy and loved as well.
The Closer You Get is a lighthearted, feel-good movie that balances humor with thoughtfulness. The film captures the endearing quirks of small-town life and the struggles of finding love in a place where eligible partners are few and far between. The performances of Ian Hart, Sean McGinley, and Niamh Cusack are all superb, with the actors bringing an authenticity and warmth to their roles that makes the characters feel like old friends.
The themes of family, community, and love are at the heart of The Closer You Get. The film shows how, in a world where everyone is looking for the perfect match, sometimes the most unexpected love stories can unfold. The movie is set in rural Ireland, a place where traditions are deeply ingrained, and love is a slow-burning process, but the film approaches it in a way that is both refreshing and timeless.
The Closer You Get also explores the shifting roles of men and women in romantic relationships. The bachelors in the film are initially looking for traditional wives who will take care of them, but they soon discover that the tourists are independent women who want to be treated as equals. Likewise, Rosemary realizes that she doesn't want to be with a man who needs taking care of, but instead wants a partner who will support her and love her for who she is.
Overall, The Closer You Get is a heartwarming film that will leave viewers with a sense of joy and contentment. The movie's exploration of love, family, and community resonates with audiences of all ages, making it a timeless classic that celebrates the beauty of Irish culture and the human experience.
The Closer You Get is a 2000 comedy with a runtime of 1 hour and 33 minutes. It has received mostly poor reviews from critics and viewers, who have given it an IMDb score of 6.2 and a MetaScore of 44.