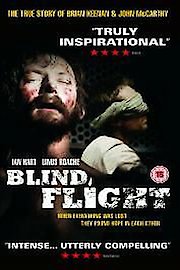 Watch Blind Flight
2003
1 hr 37 min
Blind Flight is an emotional and intense drama based on the true story of two men held captive by Hezbollah militants in Lebanon during the late 1980s. The film stars Ian Hart as John McCarthy, a British journalist, and Linus Roache as Brian Keenan, an Irish writer, who were taken hostage while working in Beirut. The movie begins with the two men being blindfolded, handcuffed, and taken from their apartment by masked men. They are put in separate cells, regularly beaten, and subjected to various forms of torture. Keenan and McCarthy are both determined to survive, but their different personalities and coping mechanisms make for a challenging relationship.
Throughout the film, the audience sees flashbacks of Keenan and McCarthy's lives before their captivity. We see glimpses of Keenan's tumultuous childhood in Northern Ireland and McCarthy's strained relationship with his ex-wife. These brief moments add depth to their characters and help the audience understand their motivations and fears.
As time goes on, Keenan and McCarthy are moved to various locations, sometimes kept in isolation, sometimes allowed to share a cell. They communicate by tapping on the walls, creating their own code to ensure that the guards don't intercept their messages.
The movie is shot in a way that conveys the claustrophobic and suffocating nature of their captivity. The cinematography is often close-up, and the camera lingers on expressions of pain and despair. The movie's intense sound design and editing also contribute to this effect, with loud and jarring sounds used to enhance the tension of the situation.
The movie's title, Blind Flight, refers to the harrowing journey that Keenan and McCarthy take to reach their eventual release. The militants blindfold them and take them on a flight, during which they have no idea where they are going, or what fate awaits them. This part of the movie is particularly tense, as they are both terrified and sick from being blindfolded for hours.
As the film draws to a close, Keenan and McCarthy are released, but the trauma of their captivity is far from over. They return home to paparazzi and press who want to know every detail of their captivity. The two men struggle to readjust to their old lives, haunted by memories of their ordeal.
Overall, Blind Flight is a gripping and emotional film that explores the resilience of the human spirit. The performances by Ian Hart and Linus Roache are impressive, and the movie's realistic portrayal of captivity is both gut-wrenching and haunting. The cinematography and sound design are excellent, creating a sense of suffocating tension that leaves the audience on edge throughout the film.
While Blind Flight may not be easy viewing due to the intense subject matter, it is a must-watch for fans of gripping dramas and true-life stories. The movie is a testament to the strength of the human spirit, proving that even in the darkest of situations, hope can still survive.