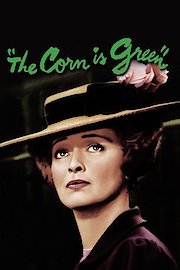 Watch The Corn is Green
"In her heart of hearts she knew she'd never hold him."
NR
1945
1 hr 53 min
The Corn is Green is a 1945 drama film directed by Irving Rapper and starring the renowned actress Bette Davis, John Dall, and Nigel Bruce. Based on the play of the same name by Emlyn Williams, the movie tells the story of a schoolteacher named Miss Moffat who moves to a small town in Wales to start a school for the local children. Miss Moffat is a determined and ambitious woman who sees education as a way out of poverty and the limitations of rural life. She is uncompromising in her standards and expects nothing but the best from her students. As she struggles to get the school up and running, she faces many obstacles and challenges, including the apathy and skepticism of the townspeople, and the lack of funding for her project. However, Miss Moffat's fortunes change when she discovers a talented young boy named Morgan Evans, played by John Dall, who has a natural gift for learning and a burning desire to get an education. Despite Morgan's poverty-stricken background and his father's opposition to his schooling, Miss Moffat recognizes his potential and takes him under her wing, providing him with the resources and encouragement he needs to excel. As Morgan's academic progress becomes well known in the community, Miss Moffat's reputation as an educator begins to grow. She also finds herself at odds with the wealthy landowner, Sir John Parry, played by Nigel Bruce, who sees her as a threat to his status and authority. However, Miss Moffat refuses to be intimidated by Sir John's bullying and stands her ground in defense of her principles and values. The Corn is Green is a heartfelt and moving story about the power of education and the transformative effect it can have on both individuals and communities. Bette Davis delivers a powerful performance as Miss Moffat, a strong-willed, independent woman who is determined to make a difference in the lives of her students. John Dall is equally impressive as Morgan, a young boy with a hunger for knowledge and a courage to stand up for what he believes in. The film features beautiful scenery and a haunting musical score that underscores the themes of hope and perseverance that run through the narrative. The Corn is Green is a classic film that continues to inspire and resonate with viewers today, reminding us of the transformative power of education and the importance of standing up for our beliefs in the face of adversity.