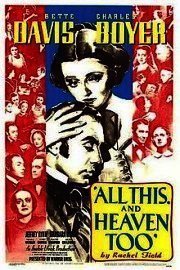 Watch All This, and Heaven Too
"When Mademoiselle Deluzy-Desportes starts teaching at a girls school, she is confronted with tales and gossip about her, which have become common knowledge among her students. Provoked by her students, she decides to tell them her life story."
Approved
1940
2 hr 21 min
All This, and Heaven Too is a 1940 romantic drama film starring Bette Davis, Charles Boyer, and Jeffrey Lynn. The film is based on the novel of the same name by Rachel Field, which is a fictionalized account of the true story of Henriette Deluzy-Desportes, a French governess who was accused of having an affair with her employer, the Duc de Praslin. The movie opens with Henriette (Bette Davis) being released from prison after serving time for her alleged relationship with the Duc de Praslin (Charles Boyer). She is met by her former students, who are now all grown up and have fond memories of her. Henriette then takes them on a journey back in time, to when she first arrived at the Duc de Praslin's chateau as a governess. We see Henriette as she begins her employment with the Duc de Praslin and his wife, the Duchesse de Praslin (Barbara O'Neil). Henriette's kindness and intelligence soon make her very popular with the children and she also earns the trust and confidence of the Duchesse de Praslin. However, things take a turn for the worse when the Duc de Praslin's reputation is ruined by allegations of his infidelity with Henriette. The Duchesse de Praslin's struggle to keep her marriage together takes center stage as she turns to Henriette for emotional support. Her emotional turmoil is further complicated by the fact that her husband is a wealthy and powerful man who can destroy her life with one word. As the tension builds, Henriette becomes embroiled in the drama, and her future with the family becomes uncertain. She is forced to fight to clear her name, while the Duchesse de Praslin must choose between her love for her husband and her loyalty to her new friend. All This, and Heaven Too is a beautifully crafted historical drama that showcases the acting talents of Bette Davis and Charles Boyer. Davis portrays Henriette with great warmth and intelligence, while Boyer exudes a mix of charm and menace as the troubled French nobleman. The supporting cast, including Jeffrey Lynn as the Duchesse de Praslin's devoted brother, also delivers strong performances. The film is set against the backdrop of 19th century France, and the period details are immaculately realized. The costumes, sets, and locations are all stunning and transport the viewer back in time. The cinematography is also noteworthy with beautifully framed shots and well-composed scenes. The movie's story is emotionally charged, and the themes of love, loyalty, and redemption are explored in a nuanced way that never feels overly sentimental. The film tackles complex issues like power, privilege, and the role of women in society, with sensitivity and understanding. Overall, All This, and Heaven Too is a timeless classic of the Golden Age of Hollywood. It is a well-acted, well-written, and visually stunning film that explores the complexities of human relationships with sophistication and grace.