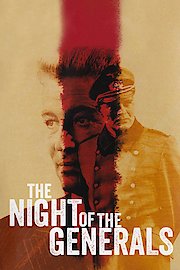 Watch The Night of the Generals
"Patriotism has been known to have its vicious side."
NR
1967
2 hr 28 min
The Night of the Generals is a dramatic mystery and crime movie. A woman's heinous murder is investigated. A woman is murdered in Warsaw in 1942. There is an eyewitness who says it was a German General. The murder is investigated by a German officer. There are four Generals who do not have alibis for that evening. Their behavior is suspicious but he cannot accuse any of them without evidence. Eventually he is transferred with the case unsolved. He reopens the case when he is assigned to Paris along with the four Generals. This movie is about the crime of murder. There are four suspects but there must be absolute proof before any of them can be accused of the crime.