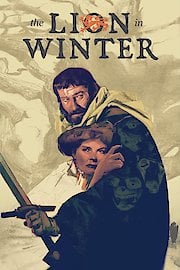 Watch The Lion in Winter
"What family doesn't have its ups and downs?"
PG
1968
2 hr 14 min
"The Lion in Winter" is a fictionalized account of the uneasy relationship between King Henry II (played by Peter O'Toole) and Queen Eleanor of Aquitane (played by Katharine Hepburn). A young Anthony Hopkins also has a notable role as Richard the Lionheart. The film is part drama, part comedy of manners, as it examines the tensions that arise as aristocratic characters consider various marriage possibilities for their children. These pairings, which will determine the power structures of a future England, become the true battlegrounds of power for those who can use them to their advantage in a culture which places bloodline above all else in determining social rank. More notable than the entertaining conceit of the storyline, however, is the chance to see two of the finest actors of their respective generations, O'Toole and Hepburn, create onscreen sparks as they do battle through the searing quality of their greatest weapons against one another, the English language. One of Hepburn's great later works, the actress would win an Oscar for her role as a queen who conceals an enormous depth of emotion beneath a biting wit. O'Toole creates a commanding presence in his role of a powerful and confident king enjoying the prime of his rule with a wisdom far beyond his age at the time (O'Toole was still in his mid-30s when the film was released in 1968). "The Lion in Winter" is in sum a striking hallmark in the annals of film history, and is sure to entertain viewers as much as it will teach them about human nature, particularly about the way that families struggle to adapt to new and confusing circumstances.