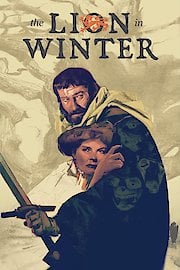 Watch The Lion in Winter
"What family doesn't have its ups and downs?"
PG
1968
2 hr 14 min
The Lion in Winter is a historical drama film from 1968 that tells the story of the royal family of England on Christmas Eve of 1183. Directed by Anthony Harvey and based on the play of the same title by James Goldman, the film stars Peter O'Toole as King Henry II, Katharine Hepburn as Queen Eleanor of Aquitaine, and Anthony Hopkins as their son Richard the Lionheart.
The movie opens with the arrival of Queen Eleanor at the castle where Henry II is keeping her imprisoned. After ten years of captivity, she has been granted permission to spend Christmas with her family. Eleanor's release is timely because it coincides with the king's plan to choose his successor from among his three sons: Richard, Geoffrey, and John.
The film is a set of intrigues, with all members of the family trying to outwit each other to gain power and influence. Henry II, a strong-willed monarch, is determined to keep his hold on the kingdom and chooses his youngest son John as his heir. The other two, Richard and Geoffrey, are not willing to give up their claims to the throne without a fight. To complicate matters, a French king, Philip II, has arrived on the scene, demanding that Henry II honor the pledge he made to him to marry his sister Alais to one of his sons.
Throughout the movie, the viewer witnesses intense verbal confrontations between the various characters, in which each one tries to manipulate the others to achieve their ends. Eleanor, in particular, is a masterful schemer, always one step ahead of the others. Despite her past grievances, she still loves Henry, but she also wants to secure her own position and protect her interests. Hepburn's performance is a standout, as she gives life to this strong-willed, intelligent, and independent woman. O'Toole is also magnificent as the powerful king who is torn between his admiration for Richard and his dislike for Geoffrey.
The Lion in Winter is not just a story about familial struggles and power games. It is also a tale of love, betrayal, and regret. The characters are complex and nuanced, and the relationships between them are layered and intriguing. Richard and John, for example, are depicted as two very different people, with Richard being a brave, charismatic warrior and John a weak, spoiled boy. The film also touches upon themes such as aging and mortality, as the characters reflect on their past and ponder their future.
The movie's setting is also noteworthy, as it takes place in a medieval castle, with its dimly-lit hallways, rustic furniture, and heavy wooden doors. The costumes are also richly detailed, full of furs, velvets, and brocades, in tones of deep red and forest green. The music score by John Barry adds to the film's atmosphere, with its haunting melodies and dramatic swells.
In conclusion, The Lion in Winter is a masterpiece of historical drama, with superb acting, a taut script, and magnificent cinematography. It offers a glimpse into the turbulent world of medieval politics, and it explores the complicated dynamics of a family in crisis. The film won three Academy Awards, including Best Actress for Katharine Hepburn, and it has become a classic of the genre, revered for its intelligence, wit, and emotional depth.
The Lion in Winter is a 1968 drama with a runtime of 2 hours and 14 minutes. It has received mostly positive reviews from critics and viewers, who have given it an IMDb score of 7.9.