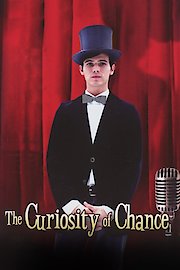 Watch The Curiosity of Chance
"The only way he could fit in was to stand out"
NR
2007
1 hr 38 min
"The Curiosity of Chance" is a coming-of-age comedy-drama set in the 1980s, directed by Russell P. Marleau. The film follows Chance Marquis (Tad Hilgenbrink), a flamboyant and quirky teenager who moves to a new town to attend a high school notorious for its bullies and jocks. Chance, who is openly gay, struggles to fit in with his new surroundings but soon finds a group of misfits: a feminist punk girl (Aldevina da Silva) and a jock (Brett Chukerman), who becomes his unlikely friend.
As the story progresses, Chance becomes fixated on discovering the truth about a mysterious older boy who he crosses paths with frequently in his new town. Chance becomes enamored with the boy's stories of life outside of small-town suburbia, and begins to paint a picture in his head of a romantic, worldly figure who could be his guide to growing up. His new friends are skeptical of Chance's delusions but still provide support as the discover and wage war against the school's bullies.
The film has elements of classic coming-of-age movies, but diversifies the formula through Chance's offbeat personality and by using the 1980s as the backdrop‎. The movie is enhanced by the great performances from the young cast, with Tad Hilgenbrink standing out for his portrayal of Chance. Hilgenbrink perfectly embodies the character's individuality and quirky charm.
The movie is aesthetically beautiful, with plenty of colorful 80s fashions and beautiful scenery. The soundtrack is also great, with some classic and obscure 80s tracks making appearances in the film.
The Curiosity of Chance is a movie that explores universal themes of individuality, acceptance and self-discovery which transcend time and place. While the movie does touch on some heavier themes like bullying, the tone remains mostly lighthearted and playful.
Overall, "The Curiosity of Chance" is a film that delivers on both the heartwarming coming-of-age moments, as well as the comedy laughs. The main character's journey is an enjoyable and relatable one, with a great fictional universe created around it to keep you entertained. The film is perfect for those who are looking for something that would fit their nostalgic taste. The story's themes may be geared towards young adults, but it has enough charm to engage viewers of all ages. It is also an entertaining trip back in time to the 80s, with plenty of the decade's pop culture references and nostalgia-inducing images.‎
The Curiosity of Chance is a 2007 comedy with a runtime of 1 hour and 38 minutes. It has received mostly positive reviews from critics and viewers, who have given it an IMDb score of 6.5.