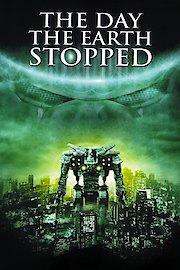 Watch The Day the Earth Stopped
As the Earth is invaded by six hundred and sixty-six 400 feet tall alien robots, two alien beings show up and declare that if they can find no case for human value the Earth will be destroyed. One man communicates with the female alien and tries to convince her to stop the robots. He helps her escape and she finally sees the value of humanity. Meanwhile, the military launches attacks against the robots only to find that they have no effect. After being captured again, she escapes and tries to get to the nearest robot to stop the Earth's destruction before it is too late.
The Day the Earth Stopped is a 2008 action movie with a runtime of 1 minute. It has received mostly poor reviews from critics and viewers, who have given it an IMDb score of 2.8.