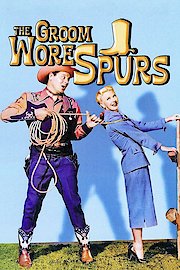 Watch The Groom Wore Spurs
"Lawyer Ginger Rogers is hired to keep dumb cowboy Jack Carson out of trouble."
Approved
1951
1 hr 20 min
The Groom Wore Spurs is a 1951 American comedy film directed by Richard Whorf and starring Ginger Rogers, Jack Carson, and Joan Davis. The film was produced by Warner Bros. and is notable for being Ginger Rogers' first western film. The movie follows the story of a wealthy socialite, Barbara Hale (Ginger Rogers), who travels to the wild west to marry her fiancé, Gene Autry. However, upon arrival, Barbara discovers that Gene has been killed by bandits. Desperately seeking revenge, she hires a gunslinger named Stretch Willoughby (Jack Carson) to help her track down the killers. As Barbara and Stretch set out on their mission, they encounter various challenges and obstacles along the way. They are joined by a lively and comedic character named Bobby Alford (Joan Davis), who brings a touch of humor and lightheartedness to the otherwise serious situation. Throughout the film, Barbara and Stretch develop a close bond and romantic tension begins to build between them. However, their affection for one another is constantly tested by the dangers and difficulties of their journey. The Groom Wore Spurs is a classic western film with a unique twist. Its combination of action, romance, and comedy makes it an entertaining and enjoyable movie for audiences. It features stunning landscapes and impressive cinematography, capturing the beauty of the untamed west. Ginger Rogers delivers a strong performance as Barbara Hale, displaying both a fierce determination to seek revenge for her fiancé's death and vulnerability as she faces the dangers of the west. Jack Carson shines as Stretch Willoughby, giving a charismatic and rugged portrayal of a gunslinger with a heart of gold. Joan Davis steals the show as the lovable and hilarious Bobby Alford. Her impeccable comedic timing and witty one-liners provide some of the film's funniest moments. The Groom Wore Spurs also boasts a memorable musical score, featuring catchy western tunes performed by top country artists of the time. Overall, The Groom Wore Spurs is a captivating and entertaining western film with a twist. It offers a delightful mix of heart, humor, and action, making it a must-see for fans of the genre and classic Hollywood cinema.