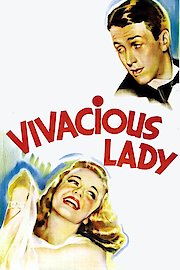 Watch Vivacious Lady
"Ginger goes to college but not the way you think"
Approved
1938
1 hr 30 min
It is 1938 and the movie Vivacious Lady has opened in theaters, captivating audiences with its charming plot, lovable characters and marvelous performances by its lead actors Ginger Rogers and James Stewart. Directed by George Stevens, the film follows the story of Francey (Ginger Rogers), a vivacious nightclub singer, who falls in love with Peter (James Stewart), a shy and reserved botany professor from a small town in the middle of America.
The movie begins with Peter traveling to New York to collect his wayward cousin Keith (James Ellison), who has been studying law at a university in the city. However, things take an unexpected turn when he meets Francey on the train and falls head over heels in love with her. Despite their contrasting personalities, Peter and Francey hit it off and spend a romantic night in the city, only to be interrupted by Keith, who inadvertently gets Francey fired from her job.
Determined to win her heart, Peter persuades Francey to come to his hometown to meet his family and marry him. However, the road to true love is paved with obstacles as they face opposition from Peter's overbearing father, who disapproves of Francey's profession and her unconventional ways. Additionally, they have to navigate a series of misunderstandings and misadventures, including a hilarious mix-up involving a suitcase full of women's lingerie and a wild party where the entire town gets drunk.
Throughout the movie, the chemistry between Ginger Rogers and James Stewart is palpable, with their witty banter and sweet moments of romance stealing the show. Rogers imbues Francey with an irresistible charm and a vulnerable sincerity that makes her more than just a glamorous nightclub singer. She is a woman with dreams and aspirations, who is looking for someone to believe in her and support her, and Stewart's Peter is just the right man for the job.
Stewart, in turn, plays Peter with an endearing awkwardness and a quiet strength that makes him a perfect foil for Francey's sassiness. His interactions with his domineering father (played by Charles Coburn) are especially enjoyable, as he tries to stand up for his own happiness while respecting his father's wishes. James Ellison, as the charismatic and mischievous Keith, adds some comic relief to the proceedings, as he gets himself and his cousins into all sorts of trouble.
Another standout aspect of the movie is its stunning black-and-white cinematography, which beautifully captures the cityscape of New York and the quaintness of Peter's hometown. The musical score by Roy Webb is also noteworthy, with catchy tunes like "Bachelor in Paris" and "Sweet Georgia Brown" adding to the film's lively and charming atmosphere.
Overall, Vivacious Lady is a delightful romantic comedy that stands the test of time, thanks to its talented cast, witty script, and playful direction. It may be a product of its time, with its gender roles and societal norms that might not hold up today, but its heart remains firmly in the right place. It is a movie that celebrates the power of love and the joy of falling in love with someone unexpected, showing that sometimes the most vivacious lady can steal the heart of the most unassuming gentleman.