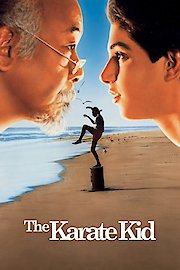 Watch The Karate Kid
"Only the 'Old One' could teach him the secrets of the masters."
PG
1984
2 hr 6 min
60
In 1984, the movie The Karate Kid first premiered on the big screen, becoming an instant classic and a defining film of the 1980s. The movie, directed by John G. Avildsen, stars Ralph Macchio as Daniel LaRusso, a teenager who moves from New Jersey to Southern California with his mother. At his new school, Daniel meets Ali Mills (Elisabeth Shue), a beautiful girl who he quickly develops a crush on. However, his attempts to impress her are quickly thwarted when he becomes the target of a group of bullies who study karate at the Cobra Kai dojo.
The leader of the bullies is Johnny Lawrence (William Zabka), a skilled karate student who takes great pleasure in tormenting and beating up Daniel. Feeling helpless and alone, Daniel finds an unlikely ally in Mr. Miyagi (Pat Morita), the wise and mysterious handyman at his apartment complex. Mr. Miyagi is a skilled martial artist, and he agrees to teach Daniel karate so that he can defend himself against Johnny and the other bullies at Cobra Kai.
Under Mr. Miyagi's guidance, Daniel learns karate not just as a means of self-defense, but as a philosophy and a way of life. He also discovers that Mr. Miyagi has been deeply affected by the loss of his family in World War II, and that his teachings are shaped by this experience. Through intense training and rigorous discipline, Daniel begins to improve his physical and mental abilities, as well as his confidence and self-esteem.
As the story progresses, the tensions between Daniel and Johnny escalate, and eventually culminate in a climactic karate tournament. Daniel is determined to prove himself and take down Cobra Kai, but he must first overcome his own fears and insecurities in order to succeed. With the help of Mr. Miyagi, who serves as his mentor and guide, Daniel eventually finds the courage and strength to face his opponents and emerge victorious.
One of the defining features of The Karate Kid is its powerful themes of perseverance, resilience, and self-discovery. The movie explores the difficulties and challenges that young people face as they grow up, and it celebrates the inner strength and spirit that can help them overcome obstacles and achieve their goals. Through its unforgettable characters, memorable dialogue, and iconic scenes, The Karate Kid has become a beloved classic and a timeless work of art. It continues to inspire and empower new generations of viewers, and it stands as a testament to the enduring power of the human spirit.
The Karate Kid is a 1984 action movie with a runtime of 2 hours and 6 minutes. It has received moderate reviews from critics and viewers, who have given it an IMDb score of 7.3 and a MetaScore of 60.