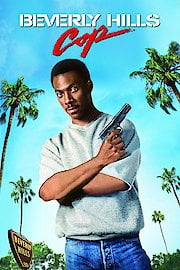 Watch Beverly Hills Cop
"The Heat Is On!"
R
1984
1 hr 46 min
66
Beverly Hills Cop is an action-comedy film from 1984 starring Eddie Murphy as Detroit cop Axel Foley. The movie opens with Axel participating in a high-speed car chase through a Detroit warehouse district. After the chase, his friend and colleague Mikey Tandino is subsequently killed in a bar by two men. Axel is determined to find out who killed his friend, and he sets out to investigate on his own.
Axel travels to Beverly Hills, California, where Mikey had been working as a security guard. As Axel starts looking into Mikey's work, he realizes that his friend may have been involved in some shady dealings. Axel also discovers that the Beverly Hills police department is not exactly welcoming to an outsider like him. Local detectives Billy Rosewood (Judge Reinhold) and John Taggart (John Ashton) are especially skeptical of Axel, but he manages to win them over with his charm and unique approach to detective work.
As Axel continues to follow leads and gather information, he gets mixed up with a group of wealthy businessmen who are involved in drug trafficking. They are headed by Victor Maitland (Steven Berkoff), a smooth-talking art dealer who is hiding something sinister behind his fancy façade. While trying to gather evidence against Maitland, Axel gets into several scuffles with the businessman's henchmen, resulting in high-speed car chases and shootouts.
The movie is filled with action and humor, with Eddie Murphy delivering a standout performance as Axel. His character is witty, street-smart, and always ready with a quip. He is also a skilled detective who is able to piece together clues and outsmart his opponents. Judge Reinhold and John Ashton provide good comedic support as the bumbling Beverly Hills cops who are amazed by Axel's unconventional methods.
Beverly Hills Cop was a huge commercial success and launched Eddie Murphy's career as a leading man. The movie was praised for its mix of action and comedy, and its portrayal of a charming and capable black hero. The movie spawned two sequels, although they were not as successful as the original.
Overall, Beverly Hills Cop is a fun, entertaining movie that is worth watching for Eddie Murphy's performance alone. It's a classic example of an 80s action-comedy, with car chases, shootouts, and one-liners galore. The movie is also notable for its use of a pop and rock music soundtrack, featuring hits from artists like Harold Faltermeyer and The Pointer Sisters. If you're looking for a lighthearted, action-packed movie with a great sense of humor, Beverly Hills Cop is definitely worth checking out.
Beverly Hills Cop is a 1984 action movie with a runtime of 1 hour and 46 minutes. It has received mostly positive reviews from critics and viewers, who have given it an IMDb score of 7.3 and a MetaScore of 66.