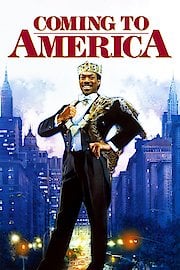 Watch Coming to America
"The four funniest men in America are Eddie Murphy."
R
1988
1 hr 56 min
47
In this movie we see a young prince trying to find his way. While his father has him primed and ready to take over as well as get married, he finds himself not just unwilling to get set in place but also unwilling to accept the hand of one whom he cannot love. He eventually concocts a plan to head to the USA and with his personal aid finds himself in New York. He continues his journey through out looking for a strong woman whom he can love and whom can love him back for who he is, not what he is.