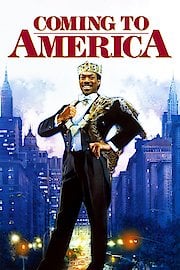 Watch Coming to America
"The four funniest men in America are Eddie Murphy."
R
1988
1 hr 56 min
47
Coming to America is a classic 1988 comedy film directed by John Landis and featuring an all-star cast led by Eddie Murphy. The film follows the story of Prince Akeem Joffer (Murphy), the crown prince of the fictional African kingdom of Zamunda who is searching for true love and a bride who will love him for who he is, not just his title. As Akeem approaches his 21st birthday, he realizes that he must marry and produce an heir to the throne. However, he is frustrated by the potential suitors that his father, King Jaffe Joffer (James Earl Jones), has lined up for him. Feeling trapped by his royal responsibilities, Akeem decides to leave Zamunda and journey to America to find a woman who will love him for who he is, not just his status. Together with his loyal friend and aide Semmi (Arsenio Hall), Akeem arrives in Queens, New York and takes on a secret identity working at a fast food restaurant called McDowell's. It is here that he meets Lisa McDowell (Shari Headley), a beautiful and independent young woman who works at her father's restaurant. As Akeem and Lisa get to know each other, he finds himself falling in love with her and discovers that she has qualities that he has been looking for in a wife. However, he knows that he must reveal the truth about his royal identity to Lisa before things can progress any further. In the end, Akeem must decide whether to follow his heart and marry for love or return to Zamunda and fulfill his duty to his people. Coming to America is a hilarious and heartwarming film that features Eddie Murphy at his comedic best. The movie is full of memorable moments and characters, including the barbershop scenes in which Murphy and Hall play multiple characters, as well as the brilliant supporting performances of Paul Bates as Oha, the royal servant of Zamunda, and Louie Anderson as the fast food restaurant employee who takes Akeem and Semmi under his wing. Overall, Coming to America has become a beloved classic that has stood the test of time, and it continues to be a fan favorite to this day. Whether you're looking for a good laugh, a heartwarming story, or a classic 80s film, Coming to America is a must-watch movie that you won't want to miss. In conclusion, Coming to America is a timeless classic that tells the story of a young African prince who journeys to Queens to find true love and fulfill his destiny, while also exploring the themes of duty, loyalty, and honor. With a cast of talented actors and a hilarious script, this movie is a must-see for anyone who loves comedy, romance, and heartwarming stories.