Watch Trading Places
"They're not just getting rich... They're getting even."
Dan Aykroyd and Eddie Murphy star in Trading Places. This comedic movie made its debut in 1983. In the beginning of the movie, you see Eddie Murphy, as a homeless bum/con artist who is living on the streets. Eddie is noticed by two wealthy brothers and so the plot thickens. Murphy is propositioned by the brothers to come work for their multimillion dollar corporation. Since he is homeless, without money and food, he without hesitation agrees.
The brothers promise the World and more to Murphy's character. But, what Eddie will eventually find out will change the whole story. You see, the brothers actually made a bet for a total sum of one dollar to see if given the opportunity, would a black man do as good in the surroundings as a white man would? The brothers find the perfect gullible uppity white man for this experiment(Dan Aykroyd). They set the man up so he would loose his mansion, his butler, his job, his money, his limo and his woman. They have Murphy basically move into this man's house and take over his life. The plan works out for the millionaires until Murphy overhears their deceitful plan. Murphy seeks out Aykroyd to report his suspicions. The two start working together to conjure up a plan of revenge of their own. The duo work together to put the millionaire brothers in bankruptcy.
|
1983
|
1 hr 58 min
|

/

10
Cast

Studio

Director

John Landis

Language

English
Trading Places News
Dan Akroyd Throws Shade at 'Ghostbusters' Remake Director
June 05, 2017 @ 12:26 pm PST
|
Read More

Top 10 Funny Christmas Movies of All Time
December 22, 2014 @ 2:38 pm PST
|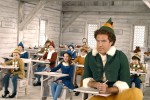 From a lovable Elf to a very bad Santa, these holiday movies are full of crazy Christmas characters. 1. Elf: A new holiday classic, "Elf" is about a man who grows up thinking he's one of Santa's elves. Will Farrell's character overflows with Christmas spirit, but on a trip to New York City to find his real family, his innocence creates all kinds of trouble.
Read More

Charlie Murphy, Brother of Eddie, Dies at 57
April 13, 2017 @ 4:46 am PST
|
Read More


Watch Trading Places Trailer

Trading Places (1983) Trailer
|
3:01
Watch Trading Places Online - Watch online anytime anywhere: Stream, Download, Buy, Rent
Trading Places is currently available to watch and stream, download, buy, rent on demand at Netflix, Amazon, Vudu, Google Play, FandangoNow, YouTube VOD, iTunes online.