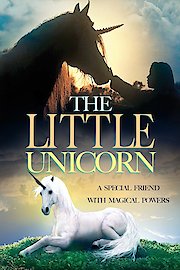 Watch The Little Unicorn
"A special friend with magical powers."
PG
2002
1 hr 21 min
The Little Unicorn is a family-friendly fantasy film from 2001 that tells the story of a young girl named Samantha who discovers a magical creature called a unicorn in the woods behind her house. The film stars Brittney Bomann as Samantha, Byron Taylor as her father, and Emma Samms as the mysterious woman who helps Samantha on her magical journey. The story begins with Samantha and her father moving into a new home in the countryside. Samantha is unhappy about leaving her old life behind and struggles to make friends in her new school. One day, she ventures into the woods behind her house and encounters a unicorn, who is injured and in need of her help. Samantha takes the unicorn back to her house and nurses her back to health. She names the unicorn Uni and quickly forms a strong bond with her. As Samantha spends more time with Uni, she learns that the unicorn possesses special powers and is being hunted by an evil sorcerer who wants to use her magic for his own gain. Samantha is determined to protect Uni and sets out on a dangerous adventure with the help of a mysterious woman who appears in the forest. Throughout their journey, Samantha and her new friend encounter a variety of obstacles and challenges, including treacherous terrain, deadly creatures, and the sorcerer's minions. But with Uni's special abilities and their own bravery and determination, they are able to overcome these obstacles and make their way to the sorcerer's lair. In the final confrontation, Samantha and her friends face off against the sorcerer and his army of dark creatures. With the help of Uni's magic, they are able to defeat the sorcerer and save the unicorn from his clutches. Overall, The Little Unicorn is an enchanting tale of friendship, bravery, and the power of magic. The film's stunning visuals and imaginative storyline will captivate audiences of all ages, and the strong performances of the cast bring the characters to life in a way that is both endearing and inspiring. If you're looking for a heartwarming adventure that will transport you to a world of wonder, The Little Unicorn is definitely worth checking out.