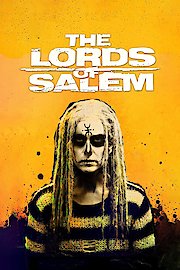 Watch The Lords of Salem
"We've been waiting... we've always been waiting"
R
2013
1 hr 41 min
57
"The Lords of Salem" is the story of a young woman named Heidi that works as a DJ at a radio station in Salem, Massachusetts. Working with her are Whitey and Munster Herman that help out in the station with certain tasks. One day a wooden box arrives at the radio station containing vinyl records that lead to horrible events later on. Heidi plays the records on her radio show in order to promote the susposed rock band that wrote the music. The group is known only as "The Lords of Salem" is a complete mystery both to Heidi and her listeners in the vicinity of Salem. Unbeknownst to anyone in Salem, a coven of ancient witches are seeking vengeance against the people of Salem because of the Witch Trials that occurred there in 1692. Their plan was very simple, create vinyl records with provocative music to lull the townspeople in to a sense of extreme curiosity. Meanwhile, Heidi is working very hard in the promotion of the so called band by trying to create a gig for the band right there in Salem. Little does she know the true horror that is about strike Salem with extreme ferocity. As the date for the gig draws closer many people are excited to meet the band that they have been hearing on the local radio station. Unfortunately, another wooden box arrives with promotional material and free tickets for the gig that was going to take place. Little did anyone realize the horrible fate that awaited the people of Salem. When the time of the gig arrives, Heidi and the Hermans were first to see the mysterious band that sent them the two wooden boxes. All too soon the rock spectacle turns into a blood bath beyond all human comprehension. In the end, the past sins of Salem come back to haunt the town in a very big way. At the mercy of the coven many things happen that are too horrible to describe in words. As part of the gruesome spectacle the churches are burned as a form of retribution for the actions of the Puritans back in the late 1600's, leaving the people to wonder why this is happening now. The truth of how the past can come back to cause harm to the people in the present time is quite clear in this story.