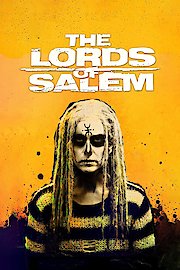 Watch The Lords of Salem
"We've been waiting... we've always been waiting"
R
2013
1 hr 41 min
57
The Lords of Salem is a 2012 American supernatural horror movie directed and written by Rob Zombie. The movie starred Sheri Moon Zombie as Heidi Hawthorne, Meg Foster as Margret Morgan, and Bruce Davison as Francis Matthias. The film is set in Salem, Massachusetts and follows the story of Heidi Hawthorne, a radio DJ who receives a mysterious wooden box holding a vinyl record. The record has a strange music with the ability to trigger visions of a coven of 18th-century witches who lived in Salem. As Heidi and her friend play the record, Heidi begins experiencing supernatural occurrences that lead her down a dark and horrifying path. The movie begins in the home of Heidi Hawthorne where she receives a strange wooden box with a record inside. Heidi works at a radio station along with her co-hosts Herman (Ken Foree) and Whitey (Jeff Daniel Phillips). They are a trio with a dark sense of humor that often like to play practical jokes on each other. After playing the record on their show, Heidi begins experiencing strange visions of a group of witches. These visions are enhanced by the eerie music on the record, which plays in the background. Meanwhile, the town of Salem is being re-visited by the notorious coven of witches, who terrorized the town 300 years ago. The descendants of the witches (Meg Foster, Patricia Quinn and Dee Wallace) are now at the helm, and they have a dark agenda in the works. They have come for Heidi specifically, to play their part in a deal made with Satan. As the visions get more and more vivid, Heidi begins to unravel in a psychological nightmare that puts all those around her in grave danger. Her boyfriend, Whitey, and her colleagues at the radio station are also being affected by the music on the record, which is causing them to have violent and disturbing dreams. Francis Matthias is a local historian who warns Heidi of the history of the witches that terrorized Salem years ago. He tells her that the descendants of the witches are back and are planning their return. Unfortunately, he is not heeded, and the characters slowly succumb to the witches' evil plans. The witches themselves are unlike any witches ever seen. They are grotesque in their appearance, with exaggerated features that make them look like something out of a horror movie. The witches use their powers to torment and inflict harm on the characters, leading to an intense finale that is both terrifying and thrilling. One of the key aspects of this movie is its use of music. Zombie composed and wrote most of the music himself. The music helps to create an unsettling atmosphere that is used to great effect throughout the film. It feels like a character in itself that enhances the horror and creepy vibe. The cinematography is also worth noting. The movie has a dark and eerie look that compliments the supernatural elements of the story. The camera work is often disorienting, with surreal and uncanny angles that keep you on edge. The film's visual style makes it look like something out of a nightmare. The Lord of Salem can be described as a disturbing and atmospheric horror movie. While it has some familiar horror movie elements, it feels unique in its approach. It is a dark and trippy experience that is well executed and leaves an impression. Sheri Moon Zombie delivers a captivating performance, and Meg Foster is fantastic in her role. The movie is not for everyone, as it has elements of extreme horror and graphic violence. However, it is worth watching for those that appreciate a good horror movie.