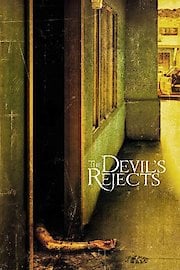 Watch The Devil's Rejects
"Hell doesn't want them. Hell doesn't need them. Hell doesn't love them. This world rejects them."
R
2005
1 hr 49 min
53
In this horror thriller, a group of sadistic, psychopathic killers goes on a murder spree. There will be no end to the carnage unless the sheriff can catch up to them and stop them. Rob Zombie directs. On May 18, 1978 (seven months after the "Halloween sacrifice" depicted in House of 1000 Corpses), Texas Sheriff John Quincey Wydell and a large posse of state troopers issue a search and destroy mission on the Firefly family, who are responsible for over 75 homicides and disappearances over the past several years. The family arm themselves and fire on the officers. Rufus is killed and Mother Firefly is taken into custody while Otis and Baby escape. They steal a car, kill the driver, and go to Kahiki Palms, a run-down motel. At the motel, Otis and Baby take a musical group called Banjo and Sullivan hostage in their room, and Otis shoots the roadie when he returns. Meanwhile, Baby's father, Captain Spaulding, decides to rendezvous with Baby and Otis. His truck runs out of gas on the way, and he frightens a boy and assaults the boy's mother before stealing her car. Back at the motel, Otis rapes Roy's wife Gloria and demands Adam and Roy come with him on an errand.