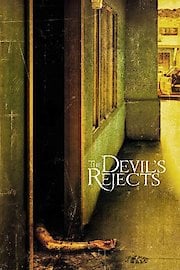 Watch The Devil's Rejects
"Hell doesn't want them. Hell doesn't need them. Hell doesn't love them. This world rejects them."
R
2005
1 hr 49 min
53
As the sequel to Rob Zombie's 2003 cult classic, "House of 1000 Corpses," "The Devil's Rejects" picks up shortly after the events of the first film. This 2005 horror movie follows the blood-soaked journey of the infamous Firefly clan: Otis (Bill Moseley), Baby (Sheri Moon Zombie), and their father, Captain Spaulding (Sid Haig). After a police raid on their homestead, the Firefly family is scattered, with each member on the run from the law. As they venture onward, they leave a trail of violence and mayhem in their wake, picking off unsuspecting victims while trying to evade the police. Meanwhile, Sheriff John Quincy Wydell (William Forsythe), the brother of one of their previous victims, is hot on their tail, determined to bring the Fireflys to justice and exact revenge for his sibling.
While the first film was a visually stunning, somewhat over-the-top gore fest, "The Devil's Rejects" is a grittier, more grounded affair. Rob Zombie traded CGI-enhanced horror for long stretches of silence, building tension with uncomfortable conversations between the Fireflys and their hostages. The brutality is more visceral, with less emphasis on the supernatural elements present in the first film.
The central trio of characters is undoubtedly the standout of the film. Moseley's Otis is a charming yet sinister figure, with an unease-inducing Southern drawl and a penchant for torture. Haig's Captain Spaulding is a vulgar clown with a loyal fan base, despite his complete disregard for human life. And Moon Zombie's Baby is both seductive and terrifying, switching from flirtatious to homicidal with ease.
Despite their monstrous actions, the Fireflys are given enough depth to make them compelling antiheroes. We see glimpses of their backstory, with flashbacks hinting at the dark past that shaped them into murderers. Their family dynamic is also explored, with the love and loyalty between them palpable even as they commit unspeakable acts.
The supporting cast is also impressive, with Forsythe stealing scenes as the vengeful sheriff. Leslie Easterbrook and Geoffrey Lewis also shine as his deputies, providing comic relief in an otherwise bleak story. Horror legends like Danny Trejo and Ken Foree appear in smaller roles, adding to the film's cult appeal.
One of the most striking aspects of "The Devil's Rejects" is its soundtrack. Zombie peppers the movie with classic rock and country songs, making them an integral part of the story rather than just background noise. Certain scenes are set to the music, with characters singing along or dancing while chaos reigns around them. The use of Lynyrd Skynyrd's "Free Bird" in the film's climactic sequence is especially effective, allowing a moment of catharsis amidst the carnage.
Despite its strengths, "The Devil's Rejects" is not without its flaws. Some may find the film too gruesome, with numerous scenes of torture and violence that may not be for everyone. The pacing is also slow at times, with long stretches of the film dedicated to character moments rather than action. And while the Fireflys are fascinating to watch, their victims are often underdeveloped and interchangeable, making it difficult to feel invested in their fate.
Overall, "The Devil's Rejects" is a brutal, unflinching horror movie that stands apart from the genre's more formulaic entries. It's not an easy watch, but for those who can stomach it, it's a fascinating examination of a family of killers who manage to charm even as they commit unspeakable acts.
The Devil's Rejects is a 2005 drama with a runtime of 1 hour and 49 minutes. It has received moderate reviews from critics and viewers, who have given it an IMDb score of 6.7 and a MetaScore of 53.