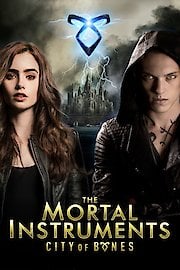 Watch The Mortal Instruments: City of Bones
"You have been chosen"
PG-13
2013
2 hr 10 min
33
Clary Fray (Lily Collins) is just like every other fifteen-year-old girl - or so she thinks, until she becomes the only witness to a violent murder in a crowded Brooklyn club. Not even Clary's best friend, Simon (Robert Sheehan), sees the event. The assailant, the mysterious and handsome Jace Wayland (Jamie Campbell Bower), explains that the victim was in fact a demon, and that its murder was necessary. Then he disappears without a trace. Jace reappears the next day and begins to reveal to Clary a whole new world of demons and other dark creatures. He calls himself a Shadowhunter, a human blessed with the blood of angels. Clary, although she appears to be an ordinary human, or "mundane," possesses unusual insight into the world of Shadowhunters and demons. While Clary talks to Jace, she receives a distressing phone call from her mother, who warns her not to return home. Clary ignores the warning and returns to her apartment, only to find it ransacked and her mother gone. While she searches desperately for clues, Clary encounters a horrifying demon. She defeats the demon, but finds no trace of her mother. Desperate for answers, Clary returns with Jace to his home, an out-of-use Gothic cathedral called The Institute, which he shares with other Shadowhunters. In the search for her mother, Clary is thrust into the world of the Shadowhunters, which is filled with demons, werewolves, vampires and other fantastic creatures. While she and the Shadowhunters unravel the mystery of her mother's disappearance, she learns as much about herself as the new world she finds herself in. Based on the novel by Cassandra Clare, The Mortal Instruments: City of Bones stars Lily Collins, Jamie Campbell Bower, Robert Sheehan, Lena Headey and Jonathan Rhys Meyers.