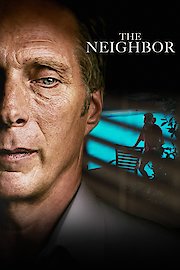 Watch The Neighbor
"Every obsession lives next door to someone."
R
2017
1 hr 45 min
The Neighbor is a 2017 thriller movie directed by Aaron Harvey and starring William Fichtner, Jessica McNamee, and Jean Louisa Kelly. The plot follows a man named John (William Fichtner) who lives a solitary life in a quiet suburban neighborhood. John's life is turned upside down when a young couple, Rosie (Jessica McNamee) and her husband, move in next door.
At first, everything seems perfect. Rosie is friendly and welcoming, and John feels like he finally has someone to talk to. However, as time goes on, John starts to notice some strange things happening in the neighborhood. He becomes suspicious of Rosie's husband, Troy (Michael Rosenbaum), and begins to investigate him.
What John discovers sets off a chain of events that puts him and Rosie in danger. As he learns more about Troy's past, including his involvement in organized crime, John realizes that he must do whatever it takes to protect Rosie and himself.
The Neighbor is a tense and suspenseful movie that keeps viewers on the edge of their seats until the very end. The performances by the cast, especially William Fichtner, are excellent, and the script is well-written and full of surprises.
One of the things that sets The Neighbor apart from other thrillers is its focus on character development. John is a complex and compelling character, and his relationship with Rosie is nuanced and realistic. The movie also explores themes of loneliness and isolation, which add depth to the story.
The cinematography is another standout element of the movie. The quiet suburban neighborhood is portrayed as both peaceful and eerie, and the use of lighting and camera angles adds to the tension.
Overall, The Neighbor is a well-crafted thriller that is sure to keep audiences engaged from start to finish. While it may not be groundbreaking in terms of plot, it is a solid and entertaining movie that is definitely worth a watch.
The Neighbor is a 2017 thriller with a runtime of 1 hour and 45 minutes. It has received mostly poor reviews from critics and viewers, who have given it an IMDb score of 4.8.