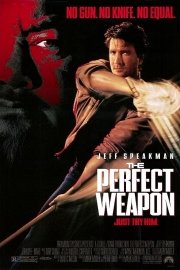 Watch The Perfect Weapon
R
1991
1 hr 23 min
35
The Perfect Weapon, released in 1991, is a martial arts action film starring Jeff Speakman, John Dye, and Mako. The movie was directed by Mark DiSalle and written by David C. Wilson. In the film, Jeff Speakman plays the lead role of Jeff Sanders, a high school student who is also a martial arts expert. Jeff has been practicing martial arts since he was a child, and his father, who was also a martial artist, trained him. Jeff is familiar with every martial arts style, and he uses his knowledge to defend himself and his friends from bullies.
One day, Jeff's best friend Kim (played by Renee Griffin) is attacked by a group of thugs who work for a local gangster named Yung (played by James Hong). When Jeff finds out what happened, he decides to take matters into his own hands and confront Yung. However, Yung is not an easy target, and Jeff ends up getting beaten badly.
Determined to get revenge for his friend and prove himself as a martial artist, Jeff turns to his father's old friend, Master Tanaka (played by Mako). Master Tanaka is a wise old man who used to train Jeff's father, and he agrees to take Jeff under his wing and train him in a secret martial arts technique called "Kenpo." With Master Tanaka's help, Jeff becomes a master of the Kenpo technique and sets out to take down Yung and his gang once and for all.
As Jeff delves deeper into Yung's criminal world, he discovers that Yung has ties to a notorious drug cartel. Jeff realizes that Yung is not just a local gangster but a major player in the international drug trade, and Yung is willing to do anything to protect his business. Jeff finds himself in grave danger as he tries to bring Yung and his empire down.
The Perfect Weapon is a classic martial arts movie that blends action, drama, and suspense perfectly. Jeff Speakman's performance as Jeff Sanders is impressive, and his fight scenes are thrilling to watch. The movie also boasts a great supporting cast, including John Dye, who plays Steve, Jeff's friend and ally.
One of the highlights of the movie is the fight scenes, which are choreographed expertly. Jeff Speakman's fighting style is unique and different than what is seen in most martial arts films. His use of Kenpo is fascinating, and it adds a new dimension to the fight scenes.
The film has a great soundtrack, which includes the title track "The Perfect Weapon" by Jeff Speakman himself. The music perfectly captures the mood of the movie and adds to the overall experience.
In summary, The Perfect Weapon is a classic martial arts movie that is a must-watch for any fan of the genre. The cast is great, the story is engaging, and the fight scenes are spectacular. Jeff Speakman's performance as Jeff Sanders is a standout, and his mastery of the Kenpo technique is impressive. The movie is a must-watch not just for martial arts fans but for anyone who loves a good action movie.
The Perfect Weapon is a 1991 action movie with a runtime of 1 hour and 23 minutes. It has received mostly poor reviews from critics and viewers, who have given it an IMDb score of 5.9 and a MetaScore of 35.