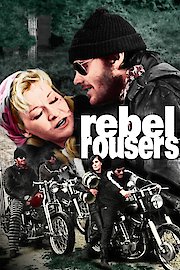 Watch The Rebel Rousers
"They laid waste to the flesh and blood of America's daughters."
R
1977
1 hr 18 min
This suspenseful drama focuses on what happens when one community is faced by the sadistic members of a local motorcycle gang. Architect Paul Cameron is challenged by the bikers to a drag race to determine whether or not they will take his pregnant girlfriend Karen with them when they ride out of town. Lacking any support from either the police or local citizens, Paul must decide how best to rescue Karen on his own.