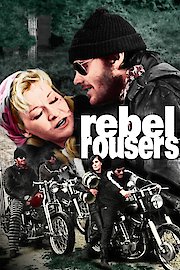 Watch The Rebel Rousers
"They laid waste to the flesh and blood of America's daughters."
R
1977
1 hr 18 min
The Rebel Rousers is a 1970 biker film starring Cameron Mitchell, Bruce Dern, and Diane Ladd. This film was directed by Martin B. Cohen, who had previously worked as a cinematographer on various films. The Rebel Rousers tells the story of J.J. (Cameron Mitchell), the leader of a small biker gang called the Stompers. They ride around causing trouble, smoking weed, and harassing women until they run into a local businessman named Seely (Harry Carey Jr.) who takes issue with their behavior. Seely tries to get the police to do something about the Stompers, but they are powerless to stop them. Eventually, Seely teams up with a rival biker gang led by a man named Monk (Bruce Dern) to take down J.J. and his gang. Meanwhile, J.J. meets a woman named Sharon (Diane Ladd) and starts a romance with her. However, this relationship is threatened when J.J. is raped by a member of Seely's gang. The rest of the film follows J.J. and his gang as they seek revenge on Seely and his men. The Rebel Rousers is a typical biker film of the era, full of motorcycles, long hair, and drugs. The film takes a gritty, low-budget approach to its subject matter and features plenty of action scenes and violent confrontations between the various gangs. The film's cast is led by Cameron Mitchell, who gives a strong performance as J.J. Mitchell was a veteran character actor who had been in the industry since the 1940s, and he brings a sense of gravitas to his role as the biker gang leader. Bruce Dern is also noteworthy as Monk, the leader of the rival biker gang. Dern was well-known at the time for his work in films like The Wild Angels and was a natural fit for the role of a rebellious biker. Diane Ladd rounds out the main cast as Sharon, J.J.'s love interest. Ladd was a rising star at the time, having just received an Academy Award nomination for her role in the film Alice Doesn't Live Here Anymore. Her role in The Rebel Rousers is relatively small, but she brings a touch of glamour to the film, which is otherwise filled with grime and grit. The Rebel Rousers was released at a time when biker films were extremely popular, thanks in part to the success of films like Easy Rider and The Wild Angels. However, unlike those films, which had more of a countercultural message, The Rebel Rousers is a more straightforward action film with little in the way of social commentary. Despite its lack of depth, however, The Rebel Rousers is an entertaining film that delivers on its promise of fast-paced action and biker gang mayhem. The film's low-budget aesthetic gives it a raw, gritty edge that makes it stand out from some of the more polished Hollywood films of the era. In conclusion, if you're a fan of biker films or vintage action movies, The Rebel Rousers is definitely worth checking out. With its classic cast and no-holds-barred approach to its subject matter, it's a film that delivers on its promise of thrills and excitement.