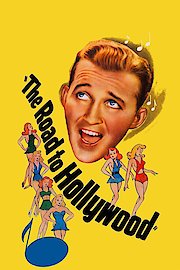 Watch The Road to Hollywood
Approved
1947
56 min
Set in 1947, The Road to Hollywood is a classic movie musical that follows the story of Larry Benson (Bing Crosby), a successful radio singer who is searching for his big break in the film industry. Larry is confident in his abilities and is convinced that he has what it takes to become a major movie star. The movie opens with Larry recording a new song for the radio, "When the Moon Comes Over the Mountain," where he is accompanied by his charmer of a manager, Hank (Luis Alberni), who often brags about his famous clients. However, Larry wants more than just radio success- he wants to be a Hollywood star. This is where his love for Hollywood comes in where he visits Hollywood and sees the Hollywood sign.
Determined to pursue his dream, Larry sets off for Hollywood with Hank, where he meets a struggling actress named Mary (Ann Christy). Mary has been trying to make it in Hollywood for years but isn't having any luck. Larry offers to help Mary get a role in a movie, and the two hit it off.
The rest of the movie follows Larry and Mary as they navigate the cut-throat world of Hollywood, trying to make it big in the entertainment industry. Along the way, they encounter various obstacles and challenges, including tough auditions, difficult producers, and jealous actors.
However, Larry remains determined to succeed, and with Hank's help, he begins to make a name for himself in Hollywood. He records several hit songs and lands a supporting role in a major movie. Meanwhile, Mary also finds success, thanks in part to Larry's help.
But as the two become more successful, they begin to drift apart. Larry's newfound fame has made him arrogant and selfish, and he starts to see Mary as just another stepping stone to success. Mary, on the other hand, feels used and ignored, and she begins to question whether she really wants to be part of the Hollywood machine.
As the movie reaches its climax, Larry and Mary are faced with a difficult choice- should they continue their pursuit of fame and fortune, or should they follow their hearts and embrace a simpler, more honest way of life? The final scenes of the movie are bittersweet, as the characters come to terms with the sacrifices they have made and the paths they have chosen.
Overall, The Road to Hollywood is a classic Hollywood musical that captures the glamour and excitement of the entertainment industry in the 1940s. Bing Crosby delivers a charismatic performance as Larry, and the chemistry between him and Ann Christy is palpable. Luis Alberni also shines as the conniving but loveable Hank, adding a touch of humor to the film.
The movie's musical numbers are among its highlights, featuring catchy tunes and dynamic choreography that will get your toes tapping. The film's message about the cost of fame and the importance of staying true to oneself still resonates today, making The Road to Hollywood a timeless classic that is worth revisiting.
The Road to Hollywood is a 1947 documentary with a runtime of 56 minutes. It has received mostly poor reviews from critics and viewers, who have given it an IMDb score of 4.7.