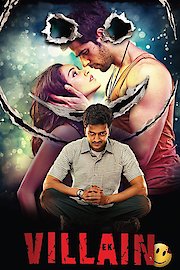 Watch The Villain
"There's one in every love story"
NR
2014
2 hr 9 min
The Villain is an Indian action thriller film released in 2014, directed by Mohit Suri and starring Sidharth Malhotra, Shraddha Kapoor, and Riteish Deshmukh in leading roles. The movie tells the story of Guru (played by Sidharth Malhotra) and Aisha (played by Shraddha Kapoor), two childhood friends who are trying to escape from their past and lead a new life.
Guru is a tough and violent gangster who has been raised in the slums of Mumbai. He has a tragic past and wants to forget it by leaving his old life of crime behind. Aisha, on the other hand, is an innocent girl from a wealthy family who dreams of becoming a singer. The two have a special connection as they were neighbors when they were children, but they lose touch when Aisha moves away.
One day, Guru and Aisha's paths cross again, and they rekindle their friendship. However, trouble soon follows in the form of Rakesh (played by Riteish Deshmukh), a psychopathic killer who is obsessed with Aisha. Rakesh becomes an obstacle in the path of Guru and Aisha's relationship and sets out to destroy Guru's life.
As the plot progresses, Guru and Rakesh become engaged in a deadly game of cat and mouse, which leads to a series of violent confrontations. Guru must protect Aisha and confront his past if he hopes to win against Rakesh.
The Villain is a typical Bollywood action thriller, with plenty of intense action sequences, emotional drama, and a love story. The movie explores the themes of friendship, love, revenge, and redemption. Sidharth Malhotra and Shraddha Kapoor's chemistry on-screen is palpable, and they both deliver strong performances. Riteish Deshmukh is the standout performer, as he portrays the psychotic antagonist with ease and conviction.
The film's soundtrack is excellent, with popular songs like "Galliyan" and "Banjaara," which have since become Bollywood classics. The cinematography is also noteworthy, with stunning visuals of Mumbai's cityscape and a gritty portrayal of the slums.
One of the film's strengths is its pacing; it doesn't waste time on unnecessary subplots or irrelevant characters. The story remains focused on Guru and Aisha's journey, which keeps the audience engaged throughout the film.
However, the movie isn't without its flaws. Some of the plot points feel contrived, and a few scenes could have been tighter. Additionally, the portrayal of violence may be too graphic for some viewers.
In conclusion, The Villain is an entertaining action-packed movie that delivers on its promises. While it may not break new ground in the genre, it's a well-made film that's worth a watch. Fans of Bollywood action thrillers will enjoy this movie and appreciate its fast-paced storytelling and strong performances.