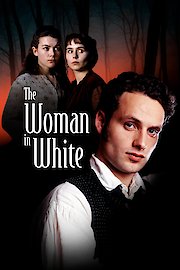 Watch The Woman in White
"Not all villans wear black"
NR
1998
1 hr 56 min
Wilkie Collins's classic Victorian mystery captivates in this BAFTA Award-winning adaptation seen on Masterpiece Theatre. Artist Walter Hartright (Andrew Lincoln, The Walking Dead) comes to Limmeridge House to instruct half-sisters Marian (Tara Fitzgerald, Brassed Off) and Laura Fairlie (Justine Waddell, Tess of the D'Urbervilles). Their peaceful lives are marred by a strange woman dressed in white, who brings disturbing warnings to the family. When Laura announces her engagement to the dashing Sir Percival Glyde (James Wilby, Maurice), it seems the darkness haunting them is lifting. But new dangers lurk closer than ever, and the only hope for averting disaster lies with the secret held by the woman in white.