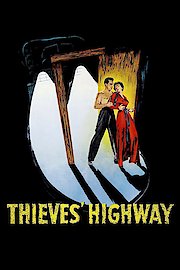 Watch THIEVES HIGHWAY
"You Need a Friend, Strong Man, - And I'm Friendly!"
Passed
1949
1 hr 34 min
Thieves' Highway is a classic film noir from 1949, directed by Jules Dassin and starring Richard Conte, Valentina Cortese, and Lee J. Cobb. The film takes place in San Francisco and follows Nick Garcos (Conte), a returning World War II veteran who intends to buy a truck and start his own business with the help of his beloved father, who is a vineyard owner in California. However, Nick's plans take a dark turn when he discovers that his father was swindled by Mike Figlia (Cobb), a corrupt produce dealer who sells rotten apples and charges exorbitant prices to unsuspected farmers. To make matters worse, Nick's father was injured during the deal and is now partially paralyzed, without the means to pay for his medical bills. Determined to get justice and revenge, Nick teams up with Ed Kinney (Millard Mitchell), a truck driver and former war buddy, and Polly Faber (Cortese), a beautiful but shady woman who had previously been involved with Figlia but now has her own agenda. Together, they embark on a dangerous journey to confront Figlia, expose his criminal activities, recover Nick's father's money, and free themselves from the hold that Figlia has on their lives. As the story unfolds, Thieves' Highway explores themes of loyalty, greed, corruption, and the struggles of working-class people trying to make ends meet in a ruthless business environment where morality takes a back seat. It also depicts the harsh realities of post-war America, where returning veterans often faced the challenges of adjustment and the cruelty of a system that did not always value their sacrifices or offer them the opportunities they deserved. With its gritty atmosphere, complex characters, and suspenseful plot, Thieves' Highway is a gripping film that holds up remarkably well after more than seven decades. The performances by Conte, Cortese, and Cobb are outstanding, and the supporting cast, including Mitchell and Joseph Pevney as Figlia's ruthless henchman, adds depth and richness to the story. The direction by Dassin, who was blacklisted during the McCarthy era, is masterful, with dynamic camera work, inventive use of light and shadow, and an authentic portrayal of urban life and its contradictions. Overall, Thieves' Highway is a remarkable achievement, not only as a film noir but also as a social commentary that resonates with contemporary audiences. It is a film that deserves to be remembered and celebrated for its artistic and cultural significance, and for its contribution to the legacy of cinema that continues to inspire and captivate us.