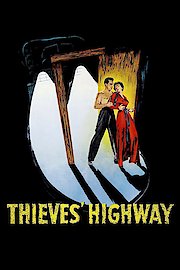 Watch THIEVES HIGHWAY
"You Need a Friend, Strong Man, - And I'm Friendly!"
Passed
1949
1 hr 34 min
"Rackets Ride The Roads!" A war-veteran-turned-truck driver Nico "Nick" Garcos arrives at home to find that his foreign-born father, a fruit farmer, has lost his legs and was forced to sell his truck. He learns that his father was crippled at the hands of an unscrupulous produce dealer in San Francisco, Mike Figlia (Lee J. Cobb). Garcos vows revenge.