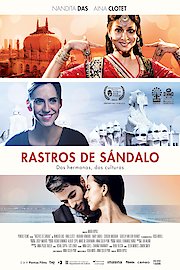 Watch Traces Of Sandalwood
"Two sisters, two cultures"
2014
1 hr 32 min
Traces of Sandalwood is a heart-wrenching drama film that was released in 2014. The film features some of the most talented actors such as Nandita Das, Aina Clotet, and Vaibhavi Hankare. The film primarily revolves around the issues of adoption, identity, and ethnicity. The story of the movie begins in 1980s Calcutta, where a five-year-old girl named Mina gets separated from her elder sister Sita. The two sisters were inseparable and were unaware that they were born to different parents. After getting lost in a crowded market, Mina gets picked up by a policeman and taken to an orphanage. Meanwhile, Sita and her parents, who were busy looking for Mina, eventually leave Calcutta to start a new life in Barcelona, Spain.
Years later, Mina (Nandita Das) grows up to become a popular movie star in India. On the other hand, Sita (Aina Clotet) completes her studies and becomes a biologist in Spain. Both sisters still feel incomplete in the absence of each other and have been looking for each other all along. Through a twist of fate, Mina discovers that she was adopted and decides to travel to Barcelona to find her long-lost sister.
On arriving in Barcelona, Mina struggles to adapt to the new culture, language, and lifestyle. Despite the difficulties, she manages to get a job as a nanny for a wealthy Indian family. During her stay in Barcelona, Mina meets a young girl named Neetu (Vaibhavi Hankare), who is living with her grandparents while her parents are away in India. Neetu's grandfather is a renowned scientist who has been studying the medicinal properties of sandalwood for years. Mina convinces Neetu's grandfather to let her help him with his research.
As the story progresses, Mina gradually learns about the differences and similarities between India and Spain. She also comes to realize the importance of family and the struggles of people who are living far away from their homes. Meanwhile, Sita, who has always been fascinated with sandalwood, discovers that the key to unlocking the mysteries of the plant lies in her own blood.
As the film reaches its climax, Mina and Sita finally come face to face after many years of separation. They share their heart-wrenching stories and come to terms with the realities of their lives. The film offers a heartfelt depiction of sisterly love, adoption, identity struggles, and cultural differences.
The performances of the three leading actresses in Traces of Sandalwood are top-notch. Nandita Das, who plays the lead role of Mina, is particularly impressive in her portrayal of a woman struggling to find her way in a foreign land. Aina Clotet gives an equally powerful performance as Sita, and her chemistry with Nandita Das creates an emotional bond that is hard to ignore. Vaibhavi Hankare, who plays Neetu, is a refreshing addition to the cast, and her bubbly nature adds a lightness to the otherwise heavy story.
The film's visual appeal is also worth mentioning. The cinematography is stunning, and the scenes shot in Barcelona are breathtaking. The use of sandalwood as a recurring motif throughout the movie is also an interesting touch, and it shows the importance of the plant in both Indian and Spanish cultures.
In conclusion, Traces of Sandalwood is an emotional rollercoaster that is sure to leave a lasting impression on its viewers. It is a must-watch for anyone who appreciates good storytelling, exceptional acting, and beautiful cinematography. The film tackles a wide range of themes, including adoption, identity struggles, cultural differences, and family bonds. It is a powerful reminder of how our past and present shape who we are and how the love of family can transcend borders and boundaries.