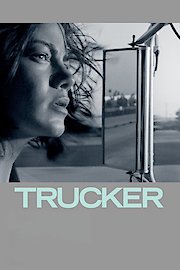 Watch Trucker
"Some Things in life you can't leave behind"
Trucker is a 2008 drama film directed by James Mottern and starring Michelle Monaghan, Nathan Fillion, and Benjamin Bratt. The film tells the story of a tough trucker named Diane Ford (Monaghan), who lives life on her own terms and doesn't depend on anyone except herself. Diane has a strained relationship with her son, Peter (Jimmy Bennett), who lives with her ex-husband (Bratt) and his new wife. But when Peter's father is diagnosed with cancer and is in immediate need of surgery, Diane is forced to take care of him while his father is in the hospital. This sets off a chain of events that forces Diane to confront her past and reconsider her priorities.
The film prominently features the trucking industry, with Diane travelling across the country in her semi-truck to transport goods. Throughout the movie, viewers get a glimpse of the challenges that truck drivers face on the road, including long hours, isolation, and the dangers of accidents.
Michelle Monaghan delivers a standout performance as Diane, showcasing her character's tough exterior as well as her vulnerabilities. Nathan Fillion plays Runner, a love interest who is a fellow trucker and someone who understands the lifestyle. He adds a great dimension to the story, and his chemistry with Monaghan is palpable.
The film deals with themes of sacrifice, motherhood, and the consequences of choices made in the past. It doesn't shy away from exploring the complexities of relationships, particularly those between a mother and her child. As Diane takes care of Peter, she is forced to confront her own shortcomings as a mother and comes to a realization about what is truly important in life.
One of the strengths of the film is its authenticity, especially its portrayal of the trucking industry. The filmmakers relied on actual truckers and their experiences to create an accurate depiction of the lifestyle. Furthermore, the cinematography captures the beauty of the American landscape, with sweeping shots of highways, mountains, and small towns. The music, which includes tracks by artists like Lucinda Williams and Merle Haggard, enhances the film's Americana flavor.
The film's pacing is deliberate, allowing the characters' relationships to develop and giving the audience time to connect with them. The emotional beats are earned and feel genuine. There are moments of levity, particularly in the scenes between Diane and Peter, that provide a nice balance to the story's heavier moments.
Overall, Trucker is a well-crafted drama that explores the complexities of family relationships and the sacrifices we make for the people we love. With strong performances from its cast and an authentic portrayal of the trucking industry, the film is a must-see for those who appreciate character-driven stories.
Trucker is a 2008 drama. It has received moderate reviews from critics and viewers, who have given it an IMDb score of 6.6 and a MetaScore of 61.