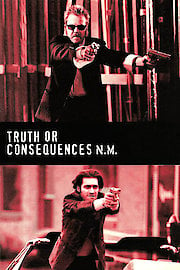 Watch Truth or Consequences, N.M.
"Life's harsh. Why behave?"
R
1997
1 hr 47 min
The film entitled Truth or Consequences is about the life and experiences of a man known as Raymond Lembecke. The film was directed by Kiefer Sutherland. The characters in the film include Sutherland, Vincent Gallo starring as Raymond Lembecke, Mykelti Williamson, Kevin Pollak, Max Perlich, Rod Steiger and Kim Dickens. The film's executive producer was Phillip M. Goldfarb. Raymond Lembecke is a criminal and a cheat who was just released from prison after completing his prison term. He was sent to jail because he was caught selling drugs for his boss a guy known as Tony Vago. However for this particular case Lembecke is not guilty but he pretended to be just to save his master from going to jail. As a result of that, he was declared guilty and sent to jail instead of Tony. After that Lembecke thinks Tony owes him his life. A few days after he comes out of prison, Tony gives him a mean job to work in a store. He becomes so angry and disappointed in Tony such that he decides to take revenge by stealing Tony's drugs which are worth one million dollars. Lembecke summons his friends Marcus Weans, and Curtis to help him plan on how to carry out the task. On the day of their operations they murder a police officer who was watching over the drugs at the time after which they find the drugs and take them away. They decide to leave town immediately to Las Vegas so they can sell the drugs. On their way they come across a couple whom they attack and seize their car. As they continue their journey they realize their main challenge is to avoid the police and a killer known as Sir who was also planning to steal those same drugs.