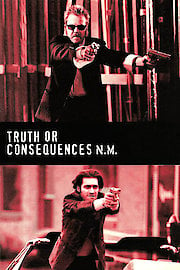 Watch Truth or Consequences, N.M.
"Life's harsh. Why behave?"
R
1997
1 hr 47 min
Truth or Consequences, N.M. is a crime drama movie released in 1997 that follows five friends in New Mexico as they attempt their last big robbery before going their separate ways. The movie stars Kiefer Sutherland as Raymond Lembecke, Kim Dickens as Addy Monroe, and Vincent Gallo as Curtis Freley. The film was directed by Kiefer Sutherland's father, Donald Sutherland.
The movie begins with Raymond, Addy, and Curtis robbing a bank. Unfortunately, things don't go as planned, and they end up killing a cop in the process. They manage to escape with the money, but they know that the police will be after them, and they have to get out of town as soon as possible.
Raymond, Addy, and Curtis decide to head to Mexico, but they need to find a way to get across the border without being caught. They come up with a plan to use a couple, Marcus and Grace, to help them get across. Marcus used to have a job that involved crossing the border regularly, so they assume that he'll know what to do.
However, things get complicated when Addy and Curtis end up falling in love with Marcus and Grace. Raymond is furious and jealous, and he starts to worry that they won't make it to Mexico alive. To make matters worse, Curtis has a drug problem, and he starts to unravel as the movie progresses.
The film features strong performances from the cast, particularly Kiefer Sutherland, who is excellent as Raymond Lembecke. He conveys a real sense of danger and volatility, which keeps the viewer on edge throughout the movie. Kim Dickens is also terrific as Addy, the tough-talking and street-smart criminal who also has a vulnerable side.
Vincent Gallo is perhaps a little over-the-top as Curtis, but he brings a manic energy to the role that makes it hard to take your eyes off him. The supporting cast is also solid, with notable performances from Mykelti Williamson as the cop investigating the robbery, and Kevin Pollak as a local crime boss.
One of the things that sets this movie apart from other crime movies is its attention to character development. We learn a lot about each of the five main characters, and the movie takes the time to explore their motivations and relationships. This makes it all the more tense and thrilling when things start to go wrong.
The movie also has an interesting visual style, with some inventive camera work and editing. There are some great scenes that are shot from unusual angles, and the use of slow motion adds to the tension in certain scenes.
Overall, Truth or Consequences, N.M. is a well-made and suspenseful crime drama with great performances and an interesting story. It's a little rough around the edges in places, but that only adds to its charm. If you're a fan of crime movies or Kiefer Sutherland, then this is definitely a movie worth checking out.
Truth or Consequences, N.M. is a 1997 action movie with a runtime of 1 hour and 47 minutes. It has received moderate reviews from critics and viewers, who have given it an IMDb score of 6.3.