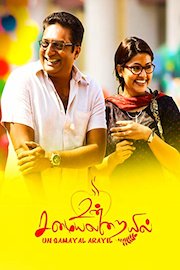 Watch Un Samayal Arayil
NR
2014
2 hr 1 min
Un Samayal Arayil is a 2014 Tamil-language romantic comedy-drama film directed by Prakash Raj, a well-known actor in the Tamil film industry. It is a remake of the Malayalam film Salt N' Pepper (2011) and has been adapted to suit the Tamil film audience. The movie stars Prakash Raj himself in the lead along with Sneha, Urvashi and Tejas.
The movie revolves around the lives of two couples who live in different parts of Chennai. Kalidasan (Prakash Raj) is a widower who works as an archaeologist, and his life revolves around his work and cooking. He is a great cook and finds solace in cooking for himself. His neighbor Gowri (Urvashi), who is his confidante, is always trying to fix him up with other women, but he keeps rejecting her suggestions.
The other couple is a young software engineer, Gautham (Tejas), and a dubbing artist, Anu (Sneha). They have never met, but both share a love for food and are regulars on an online food forum. They start exchanging messages and bond over their love for food. When they finally plan to meet, their friends set them up at a restaurant, but neither of them turns up, resulting in confusion and disappointment.
When Kalidasan by chance meets Gowri's niece, Maya (Sneha), who is a divorcee and also a great cook, he starts developing feelings for her. They start exchanging recipes and cooking for each other. Meanwhile, Anu and Gautham, after a few failed attempts, finally manage to meet, but they don't hit it off initially. Later, after a drunken night, they start spending more time together and getting to know each other better.
What is interesting about this movie is how it explores the theme of food and how it brings people together. The movie also explores the theme of age and how it can be a barrier in relationships. Kalidasan is shown as a widower who is still grieving the loss of his wife and doesn't want to move on. His character development is shown subtly as he starts to open up to Maya and his friends. It is not just Kalidasan's character who evolves, but every character in the movie has their own arc and story to tell.
The music in the movie is composed by Ilaiyaraaja, a veteran music composer in Tamil film industry, and the songs are beautifully written and directed. The cinematography by Preetha Jayaraman is top-notch, and the visuals just add to the overall feel-good charm of the movie.
Overall, Un Samayal Arayil is a feel-good, heartwarming movie that explores the complex themes of love and relationships. The movie's key focus on food, love, and friendships is what sets it apart and makes it an enjoyable watch.