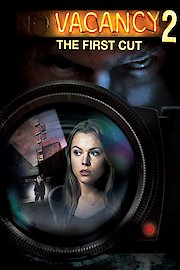 Watch Vacancy 2: The First Cut
"If the camera is on, you're dead."
R
2009
1 hr 26 min
Vacancy 2: The First Cut is a 2008 horror movie directed by Eric Bross and written by Mark L. Smith. It is a direct-to-video prequel to the 2007 horror movie Vacancy, and stars Agnes Bruckner, David Moscow, and Scott Anderson. The movie takes place in a run-down roadside motel called Meadow View Inn. The motel is owned by Gordon (David Moscow), who inherited it from his father. However, due to the decline of the motel's popularity, Gordon is struggling financially and comes up with a twisted plan to make money.
Gordon's plan involves setting up hidden cameras in the motel rooms and then secretly recording the guests during their stay. He then sells the footage to an anonymous buyer who enjoys watching people being terrorized.
The first guests to check into the motel are Jessica (Agnes Bruckner) and her boyfriend Caleb (Trevor Wright). They are on a road trip and have car trouble, which forces them to stay at Meadow View Inn. They check into room 102 and are later horrified to discover that they are being watched by hidden cameras.
As the night progresses, Jessica and Caleb soon realize that they are not the only ones in danger. They discover that Gordon and his accomplice, the motel maid Nancy (Arjay Smith), have set up traps and are planning to kill all the guests in order to create snuff movies to sell to their anonymous buyer.
The movie follows Jessica and Caleb's attempt to escape from the motel and call for help, while being pursued by Gordon and Nancy. They also discover that there are other guests at the motel, including a family with a young child, who are in grave danger.
Vacancy 2: The First Cut is a tense and suspenseful horror movie with a strong cast. Agnes Bruckner delivers an outstanding performance as the resourceful and brave Jessica, who refuses to give up despite the odds being against her. David Moscow is also effective as the deranged and desperate Gordon, whose greed and desperation lead him down a dark path.
The movie also features some well-executed scares and tense moments, particularly during the scenes in which Jessica and Caleb realize that they are being watched by hidden cameras. The motel itself is also a creepy and foreboding setting, with its faded decor and flickering neon signs.
Overall, Vacancy 2: The First Cut is a worthy prequel to the original movie, and is recommended for horror movie fans who enjoy tense and suspenseful films. It is not for the faint of heart, as it contains scenes of violence and gore.
Vacancy 2: The First Cut is a 2009 crime movie with a runtime of 1 hour and 26 minutes. It has received mostly poor reviews from critics and viewers, who have given it an IMDb score of 4.9.