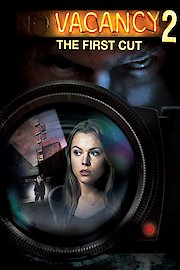 Watch Vacancy 2: The First Cut
"If the camera is on, you're dead."
R
2009
1 hr 26 min
Gordon (David Moscow) is the manager of Meadow View Inn and runs a business by putting hidden cameras in the hotel and video tapes his customers having sex. He sells the tapes to a company as pornography. But one day while the trucker who sells his tapes to people inform Gordon that his business is not doing so well. A man known by Mr. Smith comes to the hotel with a female and they go into their room. Once in their room Mr. Smith murdered the woman and the staff sees the whole murder. They let Mr. Smith knows that they are aware of the murder and Mr. Smith thinks they are going to turn him in. But Gordon and his staff don't care that he murdered someone and they're not going to go to the police because then his sex tape business will be exposed. Mr. Smith comes up with a new operation that instead of Gordon and his staff video taping people having sex, they can hire him to kill guests. At first Gordon isn't too pleased about the new operation but he later agrees to the plan. Caleb and Jessica, and their friend Tanner arrive at the hotel to spend the night. Not too long after they check in the staff starts to terrorize them and Gordon and his staff realize that Mr. Smith isn't going to follow the rules and that he out of control. Mr. Smith tries to kill two of the three guest in the hotel and also and eldery couple who lives nearby. The staff captures Caleb and they stab him and he dies. Tanner and Jessica ran to a nearby house where Mr. Smith comes to the house and tell the owners that Tanner and Jessica stole from him. The owner believes him but his wife doesn't and she tries to call the police but Mr. Smith kills her and her husband. Tanner and Jessica run but are eventually captured and the staff tortures Tanner first, and Mr. Smith tells them to leave Jessica alone because he wants to kill her personally. Jessica escapes and stabs Mr. Smith in the jaw and the hotel staff runs to find her. Jessica hides and finds a Caleb dead body and sees Tanner dies by choking on his blood. One of the staff member goes to where Jessica was hiding but she puts Caleb body on top of hers and manages to kill the staffer and steal his gun. Jessica runs into a lake and heads underwater and kills Gordon and Mr. Smith hears the gunshot. He finds Jessica and tries to kill her but she burns him. The next day the cops come and Jessica tells them everything but they don't believe her because all the tapes are missing. Mr. Smith lives and is starting the snuff business all over again.