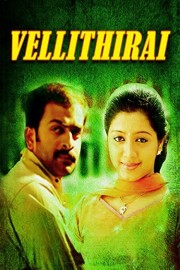 Watch Vellitherai
NR
2008
2 hr 31 min
Vellitherai, released in 2008, is a Tamil-language drama film directed by debutant director Viji. The movie stars Sarath Babu, M.S. Bhaskar, and Gopika in lead roles, and is a remake of the Malayalam film, Udayananu Tharam. The plot of the film revolves around two struggling filmmakers- Prakash (Prithviraj) and Ganesh (Pasanam Sivaji) who come to the city of dreams, Chennai, with the dream of achieving their big break in the film industry. After years of struggling, they finally get a chance to make their debut film 'Vellitherai' which gets positive reviews and draws attention from the industry. However, they are betrayed by their own friend Ganesh and lose their rights over the film. In their attempt to retrieve their film, Prakash and his girlfriend Preeti (Gopika) face many challenges from the industry insiders, and how they overcome these hurdles forms the crux of the story.
Sarath Babu plays the role of Vinayak, the antagonist and a shrewd film producer who is known for his unethical ways of dealing with aspiring actors and directors. His character is pivotal to the plot, and he does an excellent job in portraying a dark and cunning personality. Gopika, who plays the love interest of Prakash, puts in a decent performance, and her chemistry with Prithviraj is refreshing. M.S. Bhaskar, who plays Prakash's mentor and guide, has a meaty role, and he is impressive in bringing out the emotions of his character.
One of the highlights of the movie is the music composed by G.V. Prakash Kumar, which sets the mood for the different scenes in the movie. The songs, especially 'Kodambakkam Area', 'Mudhal Mudhalil', and 'Paesum Pothu' are catchy and well-executed. The background score complements the film and helps in creating a tense atmosphere during the crucial scenes.
The film delves into many aspects of the film industry, including the struggles of aspiring filmmakers, the politics that exist within the industry, and the importance of trust and loyalty in relationships. The screenplay is engaging, and the director manages to keep the audience hooked with its twists and turns. The film also has some well-crafted scenes, particularly the climax, which is both satisfying and emotional.
Overall, Vellitherai is an entertaining film that highlights the challenges that aspiring filmmakers face in the industry. The movie is a tribute to the filmmaking community and acknowledges their importance in the entertainment industry. The excellent performance by the lead actors, accompanied by a well-conceived plot, makes the movie a must-watch for all film enthusiasts.
Vellitherai is a 2008 drama with a runtime of 2 hours and 31 minutes. It has received moderate reviews from critics and viewers, who have given it an IMDb score of 6.1.