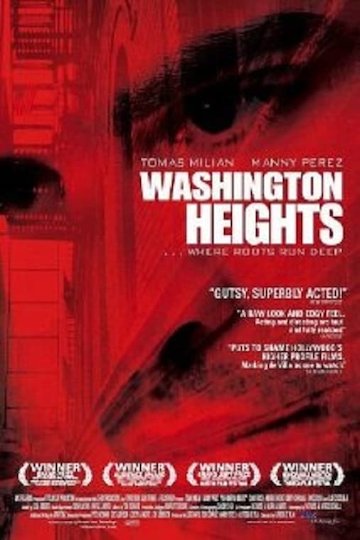 Watch Washington Heights
"Washington Heights Get Out!"
Carlos Ramirez (Manny Perez) is a young artist looking to escape his Dominican barrio and make himself a household name as a comic writer. However, after his father is shot and paralyzed by a burglar, Carlos has to defer his dreams in order to run the family store. It is not something he cares to do, but if he doesn't his father will drown under debt. If that isn't enough his mentor has told him he'll find no success until he brings some measure of depth into his artwork. Meanwhile his best friend Mickey Kilpatrick (another second generation immigrant) is making the worse mistake of his life in an effort to fulfill both his dream and Carlos. Carlos' girlfriend, Maggie (Andrea Navedo), is fighting with him over leaving the barrio as she loves the community, and his father is separated from him emotionally by a mutual sense of distrust/blame in regard to his departed mother. Washington Heights is an 80 minute drama released in 2002. Written and directed by Columbian University graduate Alfredo de Villa this film stars newcomers and old favorites alike - Tomas Milian, Manny Perez, and Danny Hoch. This project received five nominations, and won four of them. Amongst this number are a nomination for the Open Palm Award from the Gotham Awards, and winning Best Actor from the Milan International Film Festivel for Manny Perez. They also saw wins from the Austin Film Festival (Feature Film Award), the Los Angeles IFP, and the Treibeca Film Festival. This film is rated R for adult language, scenes of sexuality, brief violence, and some drug usage.