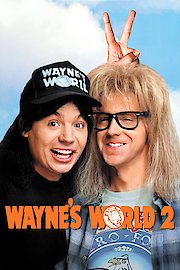 Watch Wayne's World 2
"You'll laugh again! You'll cry again!! You'll hurl again!!!"
PG-13
1993
1 hr 35 min
60
Wayne Campbell and Garth Algar are back and are now hosting their public-access television television show, Wayne's World, from an abandoned factory in Aurora, Illinois, not from Wayne's parents' basement any longer. Wayne and Garth go to an Aerosmith concert. After the concert Wayne has a strange dream where he meets Jim Morrison and a "weird naked Indian" in a desert. Jim Morrison convinces Wayne that his destiny is to organize a huge rock festival. Wayne and Garth decide to call the concert "Waynestock" and hire Morrison's former roadie, Del Preston. However, their early attempts to sign bands and sell tickets are not working. Wayne starts to get dicouraged. Especially since his girlfriend, Cassandra, and her band are hitting their big break and really successful. Cassandra also has a new producer that is trying to make the moves on her. Wayne starts to lose his determination. However, he and his friends refuse to give up and they do pull off "Waynestock."