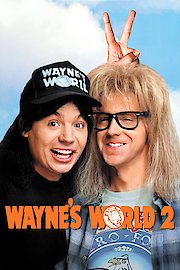 Watch Wayne's World 2
"You'll laugh again! You'll cry again!! You'll hurl again!!!"
PG-13
1993
1 hr 35 min
60
Wayne's World 2 is a comedy film released in 1993, starring Mike Myers and Dana Carvey, with Christopher Walken, Tia Carrere, and Heather Locklear in the supporting cast. The movie is a sequel to the 1992 film, Wayne's World, which was itself based on a skit from the popular sketch comedy show, Saturday Night Live. The movie picks up where the first one left off, with Wayne (Mike Myers) and Garth (Dana Carvey) still hosting their public access TV show, Wayne's World, from their basement in Aurora, Illinois. However, Wayne is getting restless and is eager to do something more with his life, while Garth is content to stay put and keep doing what they're doing.
One day, Wayne has a dream in which he meets the late Jim Morrison, who tells him to put on a music festival called Waynestock. Wayne is inspired and decides to make the dream a reality, with Garth's help. However, they face a number of obstacles, including a greedy concert promoter named Bobby Cahn (Christopher Walken), who tries to steal their idea and screw them over.
Along the way, Wayne and Garth also have various misadventures and run-ins with old friends and enemies. They visit a music store owned by their old friend, Cassandra (Tia Carrere), who has become a successful rock star. They attend an Aerosmith concert and meet Steven Tyler and Joe Perry. They also encounter a crazy roadie named Del Preston (Ralph Brown), who teaches them the ins and outs of the concert business and helps them out when they're in a jam.
The movie features a lot of the same humor and characters that made the first Wayne's World so popular, including wacky skits, fourth-wall breaking, and pop culture references. It also has a number of memorable sequences, including a parody of The Graduate and a scene in which Wayne and Garth get lost in the desert and have a psychedelic experience.
Overall, Wayne's World 2 is a fun and silly comedy that should appeal to fans of the first movie and anyone who enjoys goofy humor and '90s nostalgia. It may not be as groundbreaking or edgy as the original, but it's still a worthwhile sequel that captures the spirit of the Wayne's World universe.
Wayne's World 2 is a 1993 comedy with a runtime of 1 hour and 35 minutes. It has received moderate reviews from critics and viewers, who have given it an IMDb score of 6.2 and a MetaScore of 60.