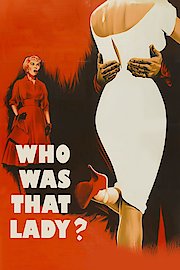 Watch Who Was That Lady?
"A light-hearted leer at love among the adults!"
Approved
1960
1 hr 55 min
Who Was That Lady? is a classic 1960 comedy film that features an all-star cast including Tony Curtis, Dean Martin, and Janet Leigh. The film is directed by George Sidney and is set against the backdrop of the Cold War. The plot of the film revolves around a hapless college professor named David Wilson (played by Tony Curtis) who makes a big mistake. He tells his wife Ann (played by Janet Leigh) that he was out late with a Russian ballerina as a cover-up for his real activities. Ann, however, believes his lie and tells her best friend, TV writer Michael Haney (played by Dean Martin), about David's supposed affair. Michael quickly spreads the news to the whole world, and David's troubles begin. He is brought in by the FBI, interrogated, and pressured to reveal everything he knows about the Russians. As a result, David turns to Michael for help, and the two men hatch a plan to fabricate a story about David being a spy. Their plan involves setting up a fake mission where they pretend to photograph Russian submarine secret documents. What follows is a series of hilarious mishaps and misunderstandings that keep the audience entertained throughout the film. Tony Curtis shines in his role as the bumbling and awkward professor who is always getting himself into trouble. Dean Martin, as always, oozes charm and charisma, playing the suave TV writer who helps his friend out of a tough situation. Janet Leigh also delivers a solid performance as David's wife, who is initially hurt by his supposed infidelity but ultimately supports him in his time of need. The film is notable for its witty dialogue, hilarious physical comedy, and sharp satire of Cold War-era politics. It also boasts a catchy title song, "Who Was That Lady?" recorded by the famous crooner Dean Martin himself, which became a hit in its own right. Despite its age, Who Was That Lady? remains a timeless classic that has stood the test of time. Its humor, themes, and performances make it a must-watch for fans of classic comedy films. It is a perfect movie for a lazy Sunday afternoon with family or friends, or as a reminder of a bygone era of Hollywood filmmaking. Overall, Who Was That Lady? is an excellent film that delivers laughs, thrills, and great entertainment.