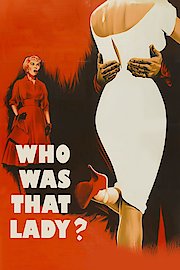 Watch Who Was That Lady?
"A light-hearted leer at love among the adults!"
Approved
1960
1 hr 55 min
Who Was That Lady? is a nonsensical comedy about a professor who is caught kissing another woman and must find a way to convince his wife that it's not what she thinks and he still loves her. The ridiculous plot he and his friend come up with involves pretending that he is really an undercover FBI agent. Their scheme backfires when the professor's wife is thrilled by her husband's bravery and can't keep quiet about it. That, and his friend's idea to set up fake secret "missions," eventually attracts the attention of the FBI, the CIA and dangerous enemy agents.