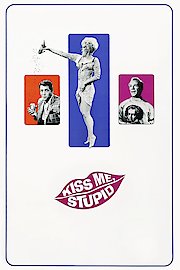 Watch Kiss Me, Stupid
"It happened in Climax, Nevada"
Approved
1964
2 hr 6 min
63
Kiss Me, Stupid is a 1964 comedy film directed by Billy Wilder and starring Dean Martin, Kim Novak, and Ray Walston. The movie tells the story of a struggling songwriter named Orville J. Spooner (Walston) who, in an attempt to sell his songs to famous singer Dino (Martin), pretends that his own wife, Zelda (Felicia Farr), is actually a famous singer who is unable to meet with Dino due to being in bed rest. However, an unexpected turn of events leads to Dino meeting and falling in love with the wrong woman.
The movie begins with Orville J. Spooner, a small town songwriter who is desperate to sell his songs to Dino, a famous singer who is passing through town. Orville knows he has to introduce himself in a positive light in order to succeed, so he asks his best friend and local mechanic, Barney (Cliff Osmond), to help him out. Barney has an idea: they can pretend that Orville's wife, Zelda, is actually a famous singer who was injured in a car crash and is currently in bed rest, unable to perform. Barney suggests they use Zelda's name and voice to sell the songs to Dino. Orville agrees to the idea, and they start recording Zelda's voice over Orville's songs.
Meanwhile, in Las Vegas, Dino is preparing for his next performance when he receives a phone call from his agent, suggesting he make a detour through Climax, Nevada, to visit his old friend, Orville Spooner. Dino agrees to the detour, and he arrives in town with his entourage, including his beautiful secretary, Polly the Pistol (Kim Novak). Orville and Barney are thrilled to have Dino in town and start planning his visit, not realizing that Dino has a reputation for being a womanizer who enjoys seducing women.
When Dino arrives at Orville's house, he is disappointed to learn that Zelda is not the famous singer he thought she was, and that she is actually bedridden. However, Dino is smitten with Polly, who he meets for the first time in Orville's house. Polly is not interested in Dino at first, but when she realizes that he is a wealthy and famous celebrity, she decides to play along for a while. Dino starts writing love letters to Polly, but when he sends them to her room, Orville accidentally intercepts them and thinks they are for his wife. Orville starts getting jealous of Dino's attention to Zelda, and he starts to fear that Dino is trying to seduce her.
Meanwhile, Polly starts falling in love with Orville and helps him with his songs, which she feels have potential. Polly and Orville start writing new songs together, and they perform them for Dino's entourage, without Dino's knowledge. When Dino hears the songs, he realizes he has been fooled, and that Polly is not actually Zelda. Dino decides to leave town, but not before he sings one of Orville's songs on stage in his performance, turning Orville into an instant success.
Kiss Me, Stupid is a classic comedy film that is a perfect representation of its era in the 1960s. It balances humor with romance and music, creating a movie that is entertaining and light-hearted. The performances of Dean Martin and Kim Novak are particularly memorable, with Martin showcasing his singing talent while Novak delivers a charming and funny performance as Polly. The movie's storyline is well-crafted, with an unexpected twist that keeps the audience engaged until the very end.
Overall, Kiss Me, Stupid is a fun and entertaining film that will appeal to fans of classic comedies and romantic comedies alike. The movie's humor and music are timeless, making it a delightful film that is sure to entertain audiences for years to come.
Kiss Me, Stupid is a 1964 comedy with a runtime of 2 hours and 6 minutes. It has received moderate reviews from critics and viewers, who have given it an IMDb score of 6.9 and a MetaScore of 63.