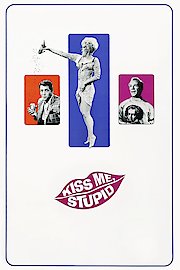 Watch Kiss Me, Stupid
"It happened in Climax, Nevada"
Approved
1964
2 hr 6 min
63
When a famous singer drives through town, a piano teacher, who is also an aspiring songwriter, sabotages his car and invites the man to stay at his house until it can be fixed. However fearing the singer's well-known playboy tendencies, the teacher picks a fight with his wife, causing her to leave, and hires a prostitute to take her place. The teacher hopes that the prostitute will be able to interest the singer in his songs, but things become complicated when the teacher begins to have feelings for her himself.