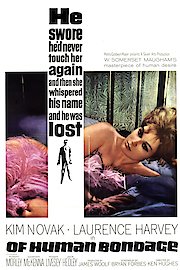 Watch Of Human Bondage
"SOME WOMEN CAN'T HELP BEING WHAT THEY ARE!"
Approved
1964
1 hr 40 min
Of Human Bondage is a 1964 film adaptation of the novel of the same name by W. Somerset Maugham. The movie starred Kim Novak, Laurence Harvey, and Robert Morley, and was directed by Ken Hughes. It was a remake of the 1934 film adaptation of the same novel. The story follows the life of Philip Carey (Laurence Harvey), a medical student living in London who becomes infatuated with a waitress named Mildred Rogers (Kim Novak). Despite her cold and manipulative nature, Philip becomes obsessed with Mildred and is unable to break free from her grasp. He dedicates himself to supporting her financially and emotionally, despite her constant rejection and mistreatment of him.
As the story progresses, Philip's life becomes increasingly dominated by his relationship with Mildred. He struggles to balance his desire for her with his own self-respect and needs, leading him to make desperate and self-destructive choices. Meanwhile, Mildred continues to use and abuse him, taking advantage of his generosity and emotions without ever actually returning his affections.
The film explores themes of love, obsession, addiction, and the destructive nature of codependency. It portrays the characters as complex and flawed individuals, each struggling with their own demons and desires. Laurence Harvey delivers a powerful performance as Philip, capturing both his vulnerability and his stubborn determination. Kim Novak shines as Mildred, bringing depth and nuance to a character who could easily have been portrayed as one-dimensional.
Robert Morley also gives a standout performance as Philip's mentor, an eccentric artist who takes a paternal interest in him. His character provides a welcome source of humor and warmth in what is otherwise a dark and emotionally charged film.
The cinematography and production design are also notable, capturing the seedy and often claustrophobic nature of Philip and Mildred's world. The film makes effective use of close-ups and subtle lighting to convey the characters' inner turmoil and desperation.
Overall, Of Human Bondage is a gripping and powerful drama that explores the darker side of human nature. While it can be difficult to watch at times, it is ultimately a rewarding and thought-provoking film that stays with you long after the credits roll.
Of Human Bondage is a 1964 drama with a runtime of 1 hour and 40 minutes. It has received mostly positive reviews from critics and viewers, who have given it an IMDb score of 6.5.