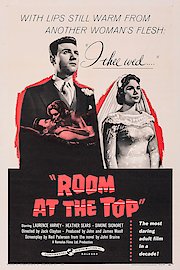 Watch Room at the Top
"A savage story of lust and ambition"
NR
1959
1 hr 55 min
84
Room at The top made in 1959 is a story about an ambitious young accountant that meet a wealthy young woman at a theater group. He plans to court and marry her because she is the boss's daughter His plans are complicated by a married older woman that he falls in love with. She is a member of the theater group and unhappily married. His involvement with both women gets messy when Susan the younger girl gets pregnant and the father pressures him to marry the daughter. It is filmed in black and white.