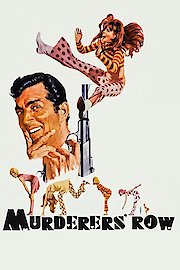 Watch Murderers' Row
"Matt Helm outdoes Matt Helm in his new all-out adventure!"
NR
1966
1 hr 45 min
A 1966 film about a teenage boxer in Harlem. The film focuses on Clarence, a young homeless boy whose alcohol-addicted parents have abandoned him. Clarence is able to discover a local boxing gym which will allow him to sweep the floors and clean in exchange for lessons and sandwiches. Clarence discovers that he has no need to worry about his day to day needs, and begins training to compete in a junior boxing league. After extensive training from his mentor, Big Red, Clarence is able to compete in a tournament. His efforts prove fruitful and he learns about himself.