AT&T Cotton Bowl
The 2014 Cotton Bowl represents a prominent return for the game, as it re-enters the rotation to be part of the newly formed College Football Playoffs. Hosting two at-large teams, the game features No. 5 Baylor and No. 8 Michigan State. Both teams finish the regular season with an 11-2 and fell just short of making the playoffs in its inaugural season.
4 Seasons,

6

Episodes

January 1, 2007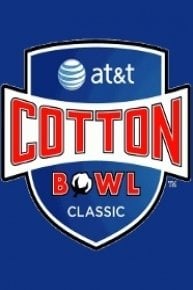 AT&T Cotton Bowl Full Episode Guide
Episode

1

-

2010 AT&T Cotton Bowl

FOX Sports and the Cotton Bowl Athletic Association bring you The AT&T Cotton Bowl featuring the Oklahoma State Cowboys and the University of Mississippi Rebels in the first classic from Cowboys Stadium in Arlington, TX.
Episode

3

-

Best of Bowl Bash 2008

The Best of Bowl Bash captures the greatest moments from the 2008 Bowl Championship Series games, including highlights from the Fiesta, Cotton, Sugar and Orange Bowls as well as the crowning of the national champion. The most memorable plays of the season - hard hits and hail marys, dramatic drives and goalline stands - are here for you to relive again and again.

Episode

2

-

Best of Bowl Bash 2007

Catch the greatest moments from all the games of BCS Bowl Bash 2007, including highlights from the Fiesta, Sugar, Orange Bowls and the BCS Bowl Championship game. The most memorable plays - hard hits and fabulous fumbles and dramatic drives - are here for you to catch up and relive again and again.

Episode

1

-

2009 AT&T Cotton Bowl